Blog
Jan 7, 2016: An Indo-Chinese wedding and new artwork

Our wedding is set for Jan 19 to 21 in Arupukottai, India. It will be a traditional Tamil wedding. Here is the wedding invitation card. Friends who are interested in attending, please contact me.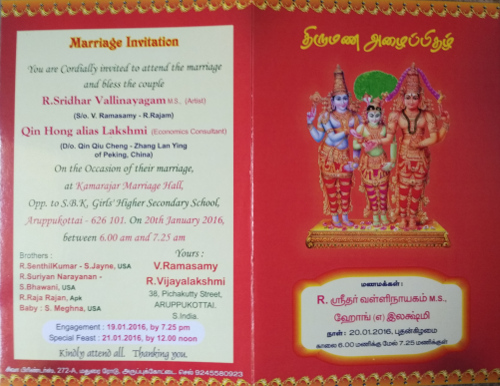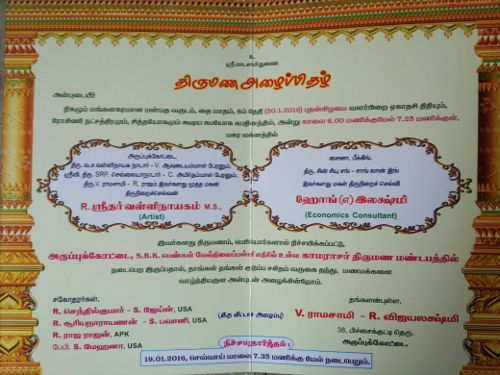 The card has an image of a celestial wedding – the wedding of God Shiva to Goddess Parvati in the Meenakshi avataar. Per Indian tradition, Gods and Godesses come to the world every once a while, in the form of human beings. These are avataars. One such avataar of Goddess Parvati was Meenakshi, who was the Queen of the Madurai kingdom (where we are located now). Per tradition, the brides uncle has to give the bride away at the wedding. God Vishnu performed this role. In the photo, Vishnu is on the left, as the uncle. Meenakshi is in the middle as the bride and Shiva is on the right.

Most invitations in Arupukottai are in Tamil. We modified one page to create an English version. After the weddings were printed, they were taken to our family temple. There it was blessed by the priest.

New artwork. I am in the mood for dumplings.

This artwork uses a traditional board used for making dumplings as the base. It is found in most Chinese kitchens. Dumplings have a long tradition in China and are used to welcome new guests.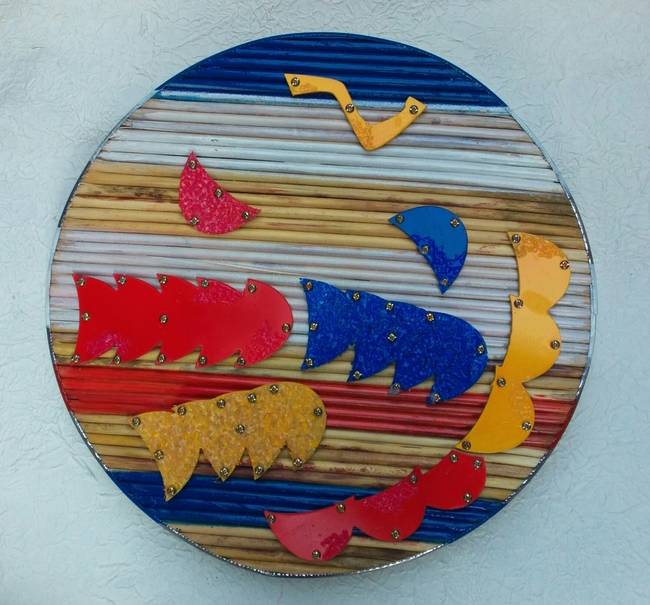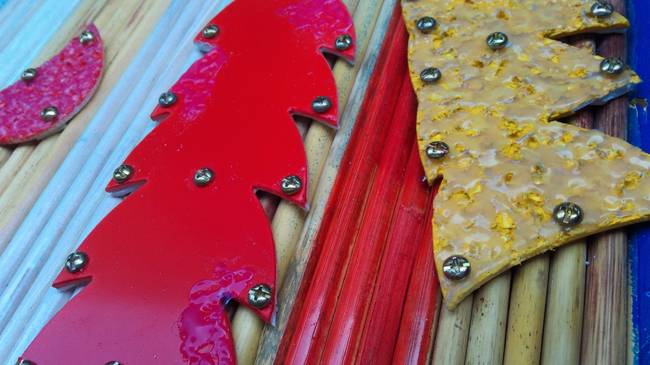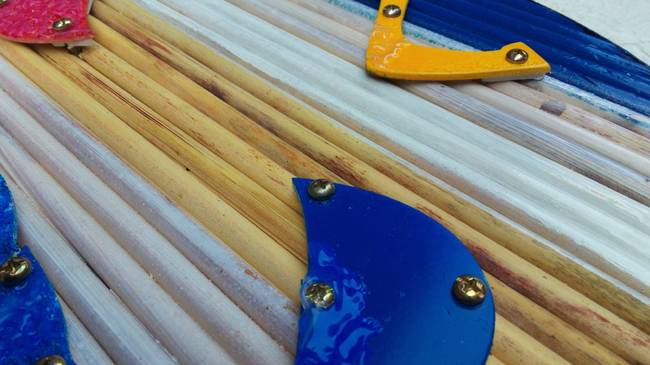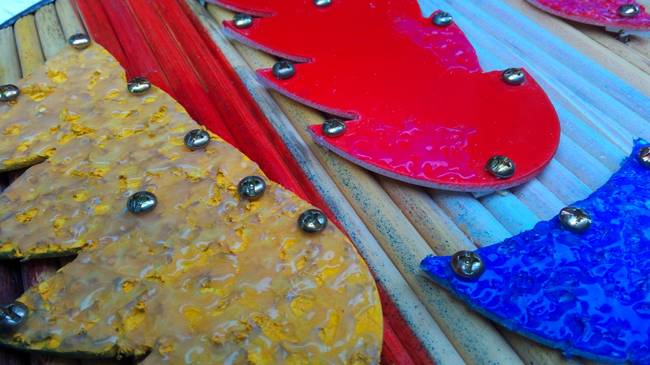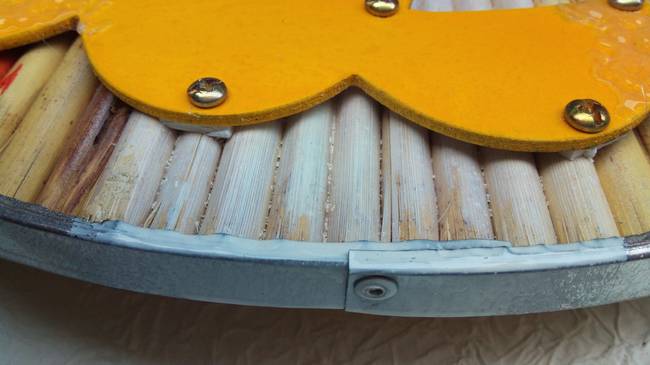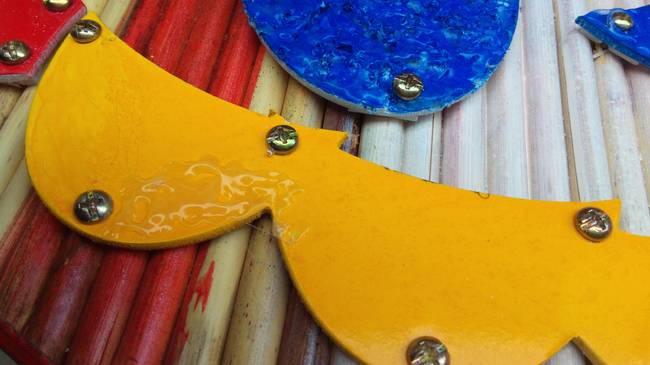 This artwork is at the intersection of four roads.

One road runs from the past to the present. The dumpling board has a long history. However, the other materials used in this artwork are modern. It uses plastics, computers and CNC routers.

The second road runs from the left brain to the right brain. From the creative side to the logical, engineering side. It is artwork that has a lot of engineering influence.
---
Comment:

Congrats and best wishes for your happy married life!
Raja



Congratulations on the wedding!

Wishing you both a very happy married life!
Vikram



新婚快乐,白头偕老!
Jonathan, Lin



Congratulations on wedding
Jonathan, Lin



Hi Raja,

Thank you very much.
Sridhar



Hello Vikram,
Thanks much :-)
Sridhar



Thank you Jonathan.
Sridhar



你好 Jonathan,
谢谢你了。
雷森明



Hi Congratulations how exciting. Thank you .


Annie Burgamy



Congratulations. May your life together be filled with love, life and laughter
Ralph Greene



Sridhar,

Congratulation! Lusia is very happy for you and send her best wishes!

Vivek
Vivek



Congratulations out friend. Best of Wished
Kerry and Lu Duncan



新婚快乐,白头偕老!
Yang Tao



我的好朋友雷,您好,收到你的信息,很开心,祝贺新婚快乐,白头偕老!
Yang Tao



新娘漂亮吗?
loc



Congratulations on the wedding!
Hoping see your wedding pictures.
Wang Haiyan



Dear Sridhar,
Long time no see! So happy to hear about your wedding. I would like to send my best regards to you two.祝你们幸福相伴!甜蜜一生!
Kate Guo



Hi Annie,
Thank you ver much.
Sridhar



Hi Ralph,
Thank you very much. Hope things are great at your gallery :-)
Sridhar



Hi Vivek and Lusia,
Thank you very much. Hope things are great in Florida
Sridhar



Hi Kerry and Lu,
Thank you very much. Planning an Indian wedding is quite an intense experience. And very tiring :-)
Sridhar



Hi Wang HaiYan,

Thank you very much. I will certainly share the wedding pictures.
Sridhar



Hi Kate,
Yes, its been a long time since we have communicated. How are things with you? Where are you now?
Sridhar



Dear Sridhar:

Congratulations!Blessing you and your lovely wife are happiness forever.

Venus Tu(Taiwan)
Venus



新婚快乐,百年好合
常要稳



Many congratulations to both of you! Have a happy married life.
Tanushree



幸福久久,白头偕老
YeBingZi



Hi Venus Tu,
Thank you very much. I am now married :-)
Sridhar



Hello Tanushree,
Thanks much.
Sridhar



真诚地祝福亲爱的雷森明新婚夫妇幸福快乐,白头到老!
xingxueying



Sridhar, wishing you and your new wife much happiness!
Michele



您好xingxueying,
谢谢您了。
雷森明



Hi Michele,
Thanks much :-)
Sridhar



Congrats on the wedding.
John



Hi John, Thanks. Nice to hear from you after such a long time.
Sridhar



Congratulations!
Huiling Zhu



Hello Huiling Zhu, Thank you very much.
Sridhar



Best wishes for a happy marriage!
cherry



Hi Cherry, Thank you so much!
Sridhar



Congratulations again. Almost marriage and wedding are the big thing in any country, specially you and your beautiful wife come from different old cultural country. It must be very difficult in the beginning , but I think it will turn to your sweet memory at all. Hope you and your wife Lakshmi will be happiness everyday from now on.
Venus



Hi Venus, Thank you very much for such a thoughful message. Yes, it was difficult in the beginning, but I think things are now better :-)
Sridhar


Dec 19, 2015: Artwork using plastics and screws – yes metal screws.

Consciousness ebbs and flows. It meanders. It searches. It seeks out the unknown much like the small child. With faltering steps it steps out ...

First it was all engineering, for many years. Then it was all art, for many years. And now its blending. Synthesizing. Digesting and taking ownership.

The earlier paintings of about 10 years ago and the recent paintings are similar and different. The shapes and flowing lines are still there. The person is still a collection of simple circles, triangles and rectangles. But the materials have changed. The past two months have been bits of plastics assembled with screws – much like a bridge – one can see the bridge but also the bolts that hold it all together.

With newness comes uncertainty and the thrill. Two sides of the same coin. Adventure and danger versus safe and boring. Its very exciting. Awake early in the mornings and ready to try out a new idea. But.... Is it good? Is it beautiful? Is it too beautiful? Remember, the upper echelons of the artworld looks down upon anything beautiful. Is it complete? Looking at the artwork – add more color? Add more texture? Dont know. One will never know.

Here are three pieces using the new materials. They are all PVC screwed together over another plastic sheet. There is color using acrylic paints and spray paint. Spray paint gives a modern, bright, even finish. Acrylic gives it a human, uneven finish. There is also glitter paper.

The first piece is Froggie swimming towards the light. It is 50x40cm. The frog is a new design that has not appeared before. It was an inspiration on a trip to Mongolia. Somewhat autobiographical in that the artist is also searching for the light visually.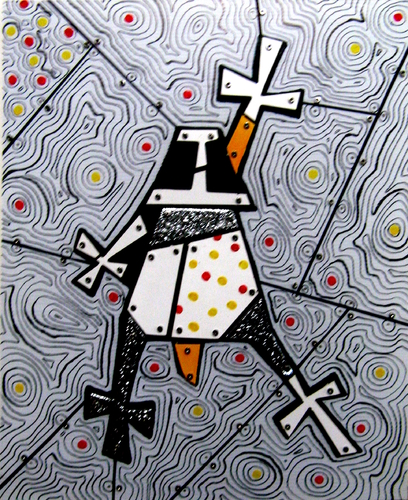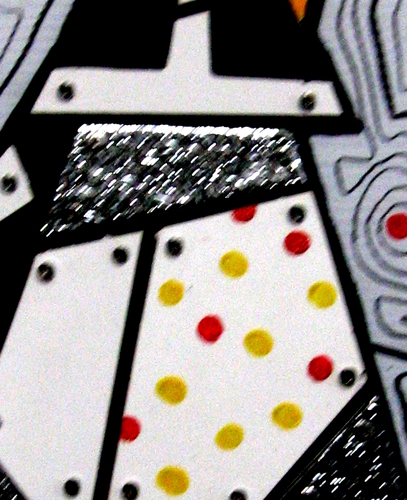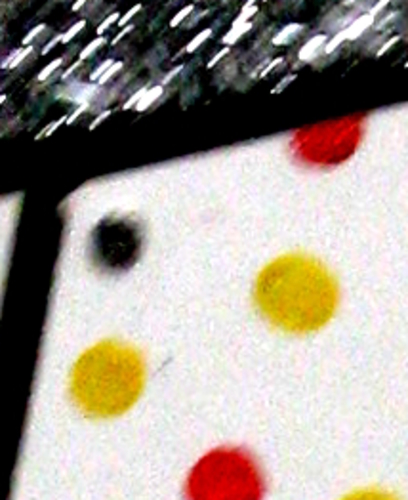 The second piece is Engineering Deer. Also 50x40cm. The deer is poised as it is doing something – what, one wonders. Popular on Saatchi online gallery.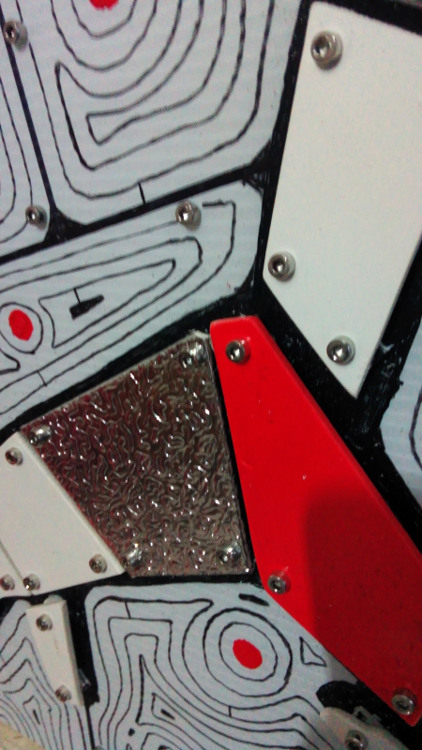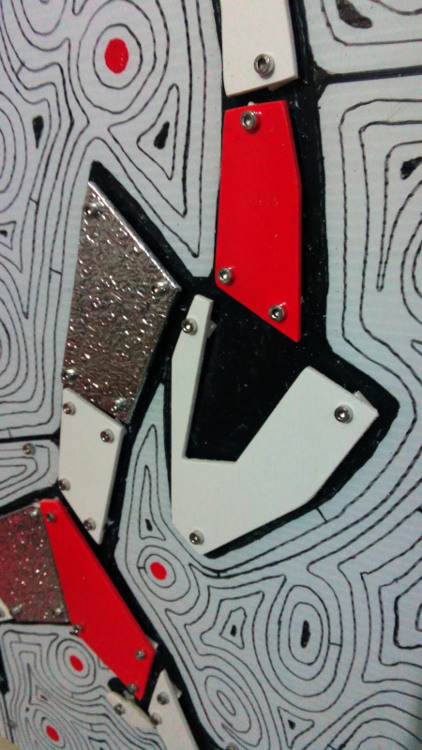 The third piece is She was happy when here sister arrived. The design is borrowed heavily from a ten year old painting. But modified and rendered in plastics. Here are both the original and the newer version. Do you see the transition? The process? What do you think is occuring? Drop a note.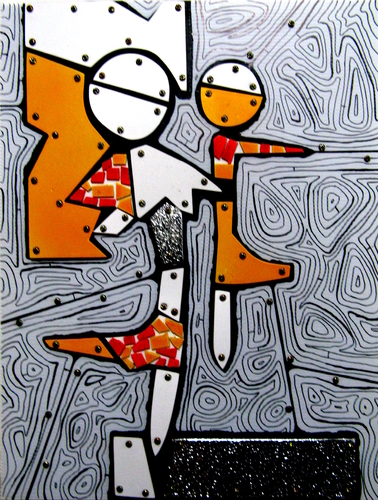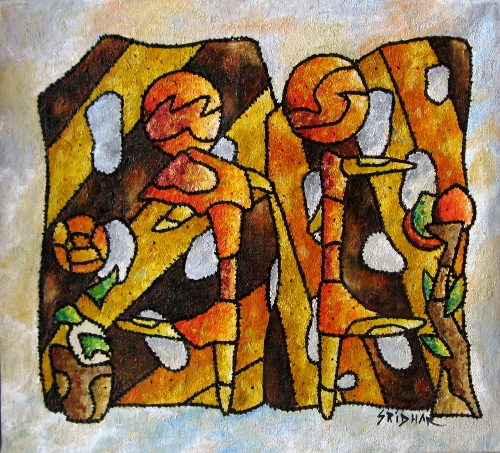 ---
Comment:

非常有意义当代艺术。
野雪



您好野雪老师, 谢谢您:-)
雷森明


October 30, 2015: Old Jewish bastard shouting at yellow man:

Westerners have an automatic sense of superiority when dealing with others. This was evident in an online conversation recently. Which was an inspiration for this painting. Its poliyart.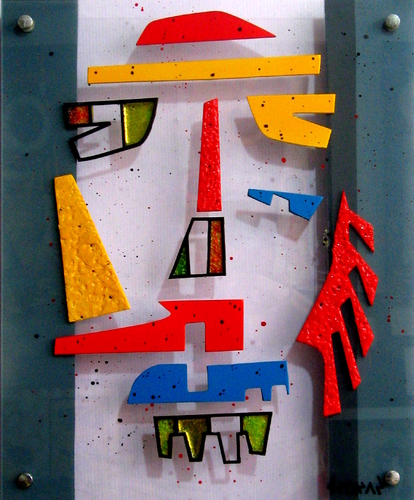 This one is: She jumped into the rocket and escaped all her troubles. This one was inspired by a dear friend who recently died of a drug overdose.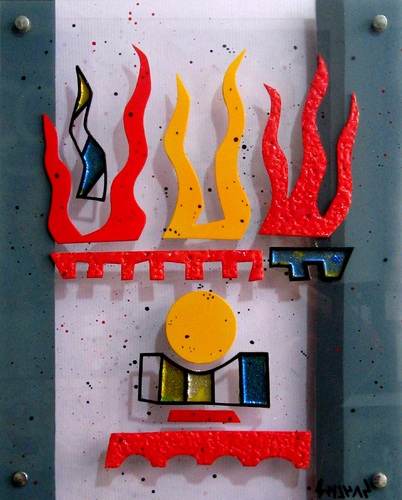 Here is another one: Couple arguing over jackfruit slice. Really enjoyed making this one. Very playful and funky.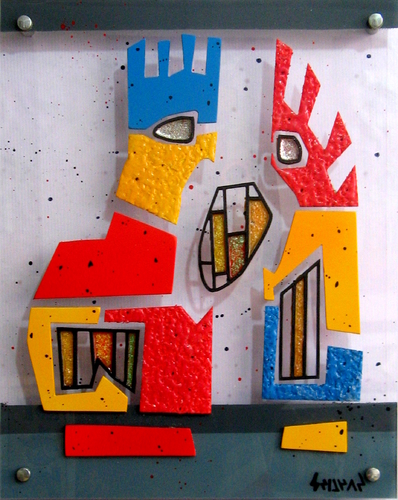 And here: Dreaming of Indian mangoes. I will be visiting India soon and miss Indian mangoes. I have not been to India during summer in over 27 years. Mangoes are a summer fruit, so will miss it this time too.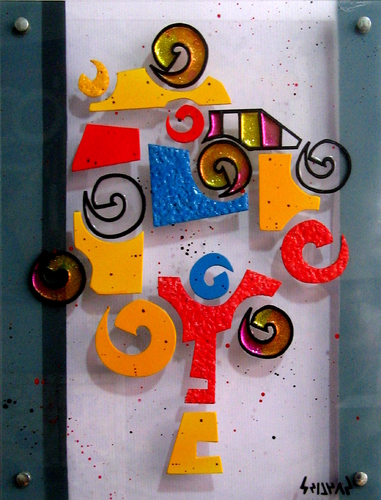 I have also been painting more traditional paintings.

First one: They play music at harvest time.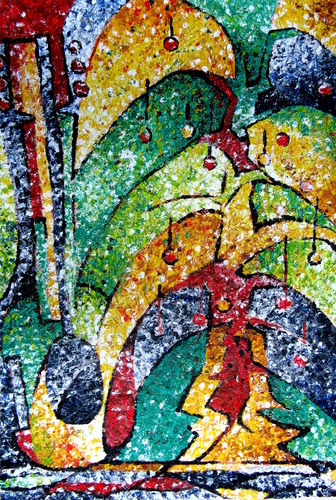 Second one: Dont eat too much, or you will become fat. I have been losing weight and excercising regularly for the past 6 months or so. Hence the inspiration. This one was extremely popular on Wechat.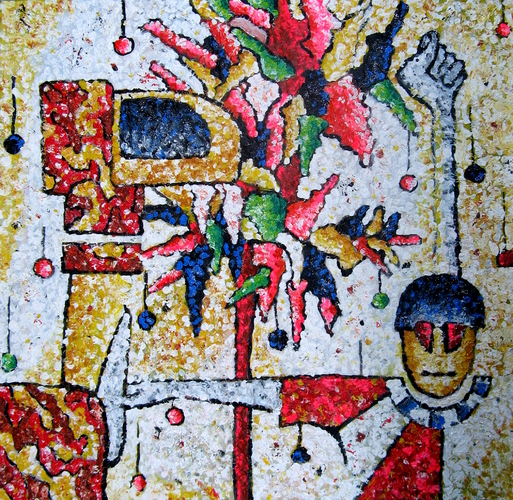 Third one: Laozi should have said sometimes a sailor lives on coconuts. The recent art market is so weak that most artists are having to find other means of support. Hence the inspiration for this one.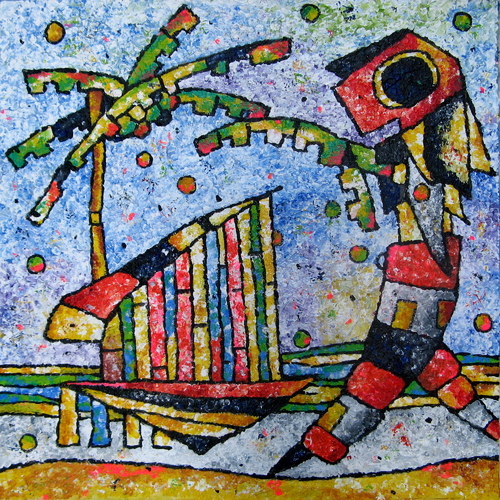 Everything begins from the heart - a lecture by Sridhar Ramasami: Two weekends ago, the local bookstore FengMi organized a lecture by me with this title. I talked mostly about how my life changed after my ten month long hike in the USA. Here are some photos.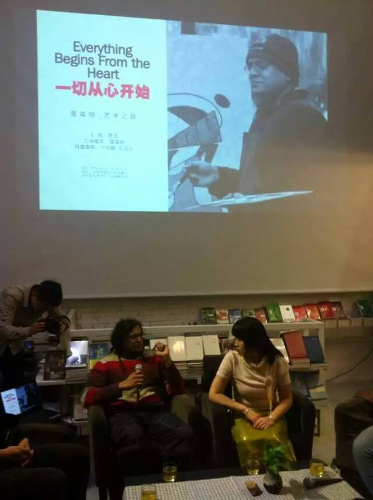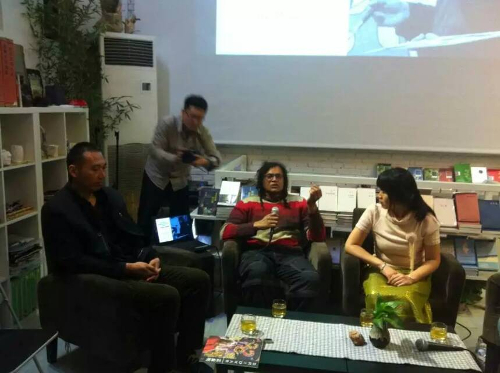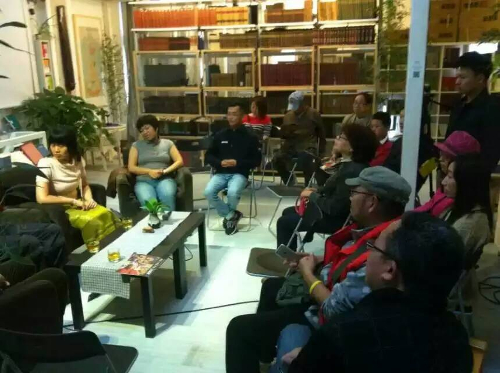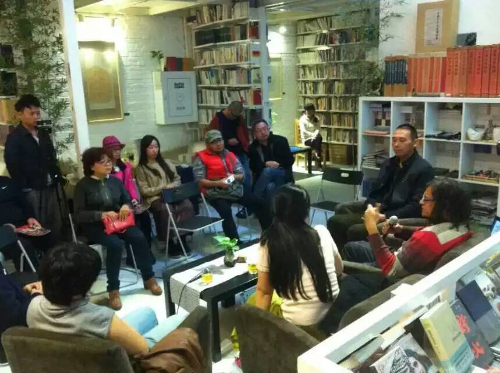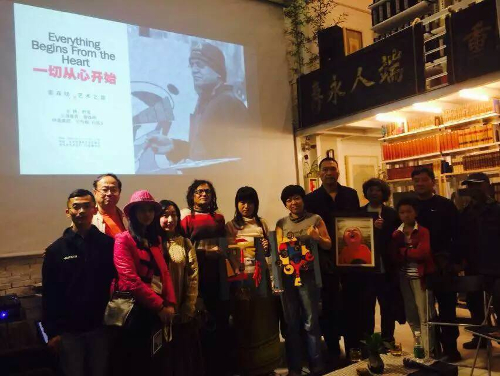 Exhibition: Two of my poliyart were exhibited in Songzhuang at Yexue culture center, along with work by 23 other artists. It was a lively affair and my first exhibition of my poliyart. Photos here.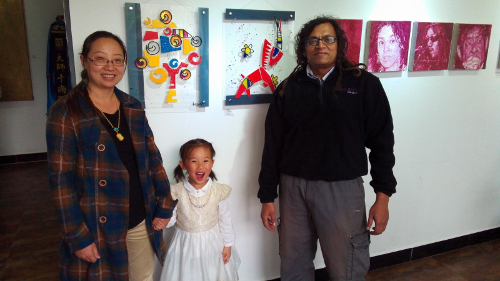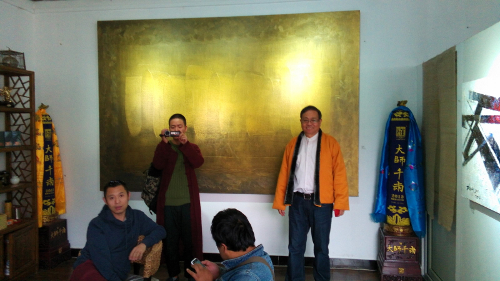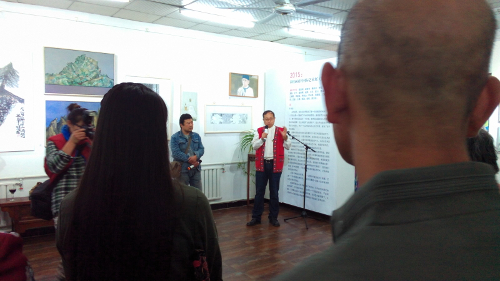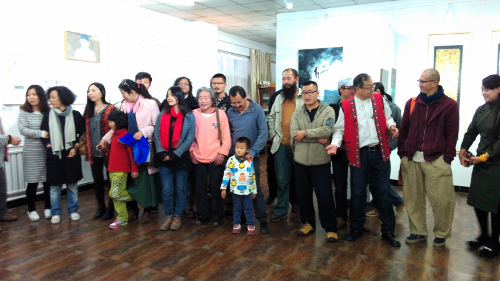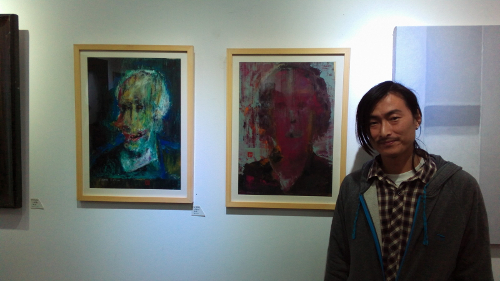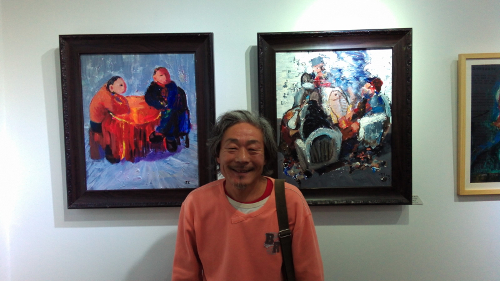 Wechat friends: If you are on wechat, and want to add me, I am 18801052785. Please introduce yourself. Thanks.
---
Comment:

Hi Sridhar,
Provocative works. Love them! See you in Bangalore!
Prabhu



Hi Prabhu,
Thanks. It was nice to meet you in Beijing. See you in Bangalore too :-)
Sridhar



Hey man,
Really bad news about Susan, huh? Cool paintings. Keep on.
Mark



Hi Mark,
Yes. Very sad. Take good care yourself too.
Sridhar



Met you at your exhibition. Love your new works. Very creative.
wang jing jing



Hi Wang jing jing,
Thanks.
Sridhar



Hi Sridhar,
Really like your recent work.
Kartik



雷老师,您太棒了 :-)
David



您好David,
谢谢您了。
雷森明



Hi Kartik, Thanks much.
Sridhar



I got your link from Carlos. Nice work man!
Bill Case



Hi Bill,
Nice to hear from you. You still in Florida
sridhar



Sridhar,

Congratulation! Lusia is very happy for you and send her best wishes!

Vivek
Vivek



Hi Vivek, Thank you so much. How are things in Florida?
Sridhar


Oct 9, 2016: Paintings in a forest?

Songzhuang, an artist village on the outskirts of Beijing is home to about 3000 artists. Its a special place. It has the vibrancy of creativity. It has a very social atmosphere. It has its eccentricities. It has its unique architecture in the form of houses, studios, galleries and museums. Every year we have an art fair, that is usually quite exciting and bustling.

There were several openings, notably ShangShang museum and Songzhuang Art museum. ShangShang museum is considered to be be the biggest and most prestigious in Songzhuang. This year they had paintings by local commercial artists. There were numerous landscapes. There was also an interesteing exhibtion by a group of 18 artists, most of whom painted in an impressionistic style. They were quite good. Here are some photos.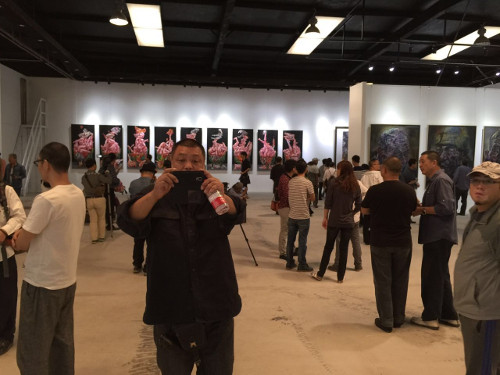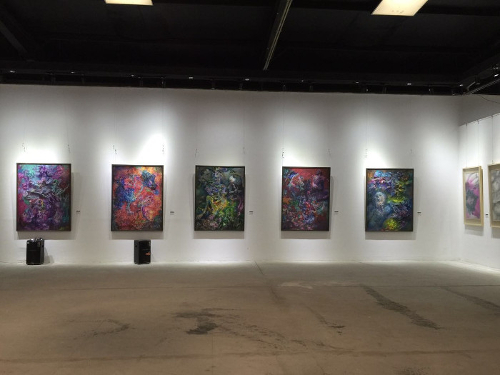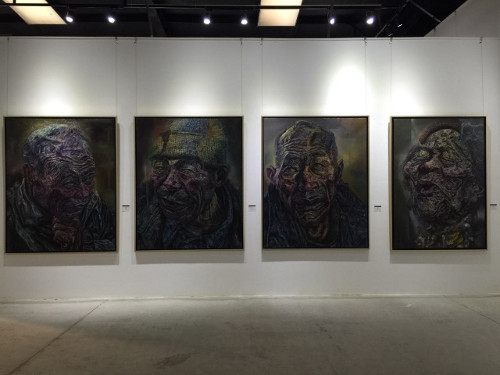 Songzhuang Art museum had artwork by 7 artists. The theme is mostly copied from the west, where modern art museums are mostly showing sensationalistic installation art devoid of any meaning. There was one large piece of cloth that hung on the wall and overflowed on to the floor. So, if its raining and you need a large piece of cloth to make a quick roof, head on to the Songzhuang art museum :-)

One of the most interesting exhibitions was an open air exhibition in a little forest. Two of my paintings were also exhibited. Its just a small park with a forest like atmosphere with paintings hung from trees. It lasted for four days and was very lively. The artists and friends hung out in the forest for all four days, painting, eating, drinking and playing music. I am sure they had more visitors and had a more lively atmosphere than the large museums in Songzhuang. I enjoyed it very much. Photos here.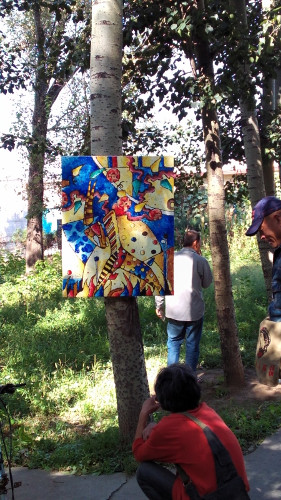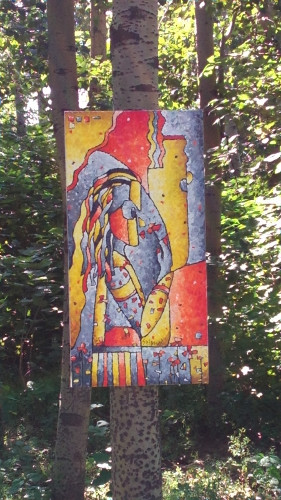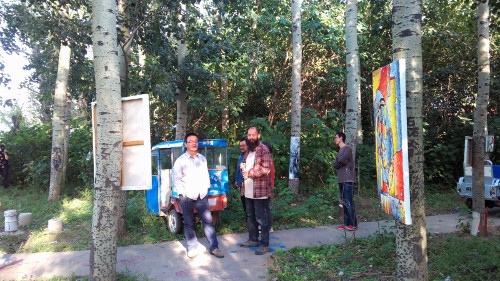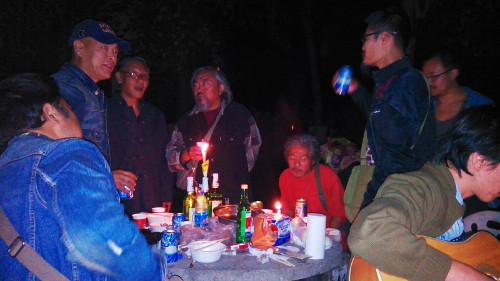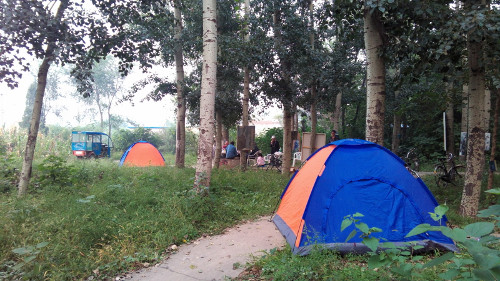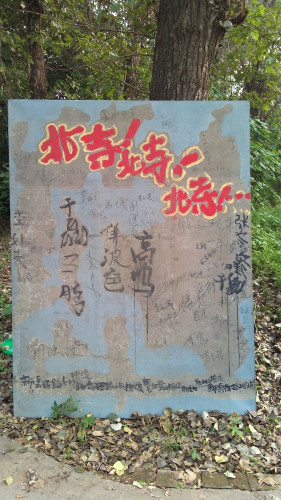 Some other photos from this years art fair.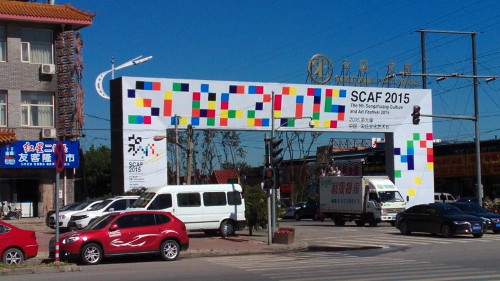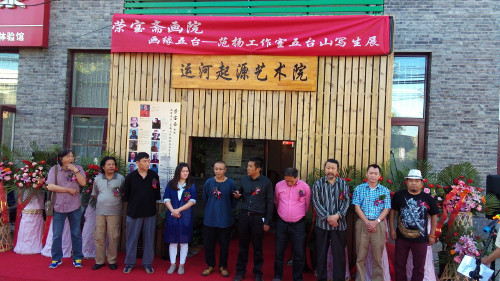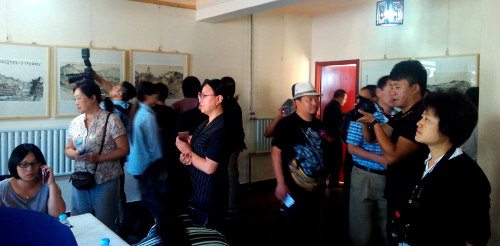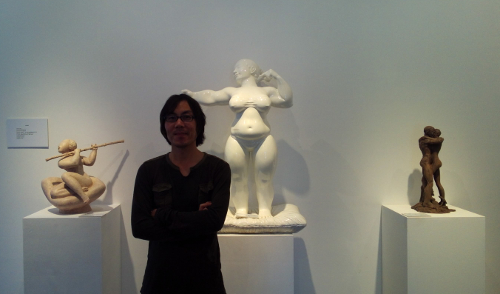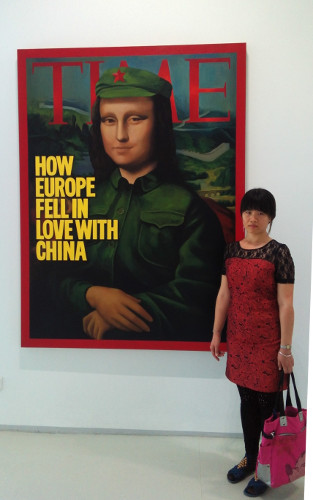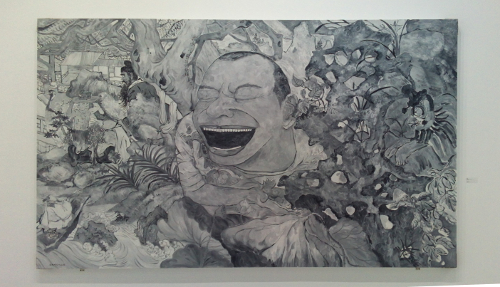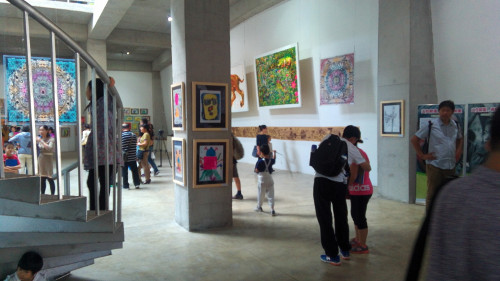 ---
Comment:

A very vibrant show. Your painting hanging on the tree looks like it was made for that tree. Congratulations. I\'m forwarding this to a Chinese friend in Canada.
Nikole



Hi Nikole,
Thanks for visiting and your comments. Most gallery and museum shows have a cold almost sterile feel. But the forest show was very lively and warm and therefore very special. I enjoyed it very much - a very good time to relax and catch up with the other artists over beer, baijiu and lots and lots of food :-)
Sridhar



Congratulations on your recent show and engagement. What a Wonderful time for you. I wish you and your fiance all of the best. Have you set a date yet?
Michele



Hi Michele,
Havent heard from you in a while. Thanks a lot. The date is approximately set. Will send you an email.
Sridhar



Hi Sridhar, I, too, think your painting in the woods looks great! I like looking at all your photos, too.
Beth



Hi Beth,
Seeing you after a long time. Yeah, the forest exibition was unique. Museums and galleries spend a lot of money, but they have become stiff and boring. Sometimes, its nice to shake things up a little.
Hope things are great in S. Florida.
Sridhar



Congratulations, Sridhar and Qin Hong. May the blessings of Shiva and Parvati rain on the new couple. What a wonderful Indo-Chinese love story! Looking forward to meeting you sooner or later. Arnab and family
Arnab



Hi Arnab, Thank you very much.
Sridhar



Thank you for sharing your life and art in China. I commend you for your pursuits in your life and your art. Keep it up.
Phil Toy


Sep 20, 2015: Engagement photos:

Many of my friends have asked to see my engagement photos. Here they are. Humorous photo shoot :-)
CAUTION: HUMOR AHEAD
Please marry me.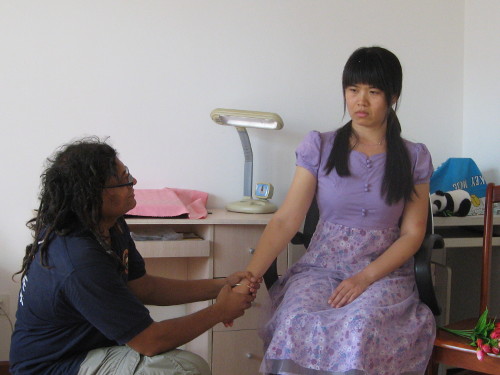 Please..please...please... marry me.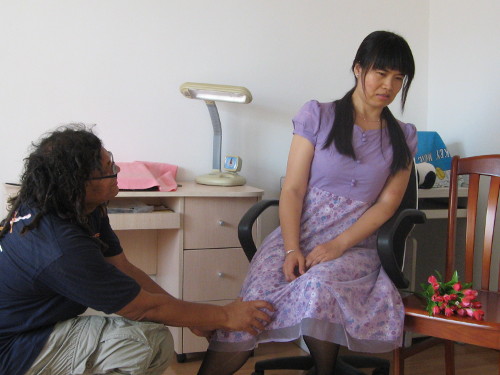 The drunk rejected lover.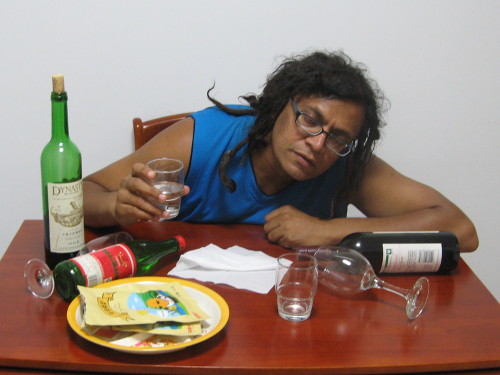 The drunk threatens to cut the turtle. OH NO......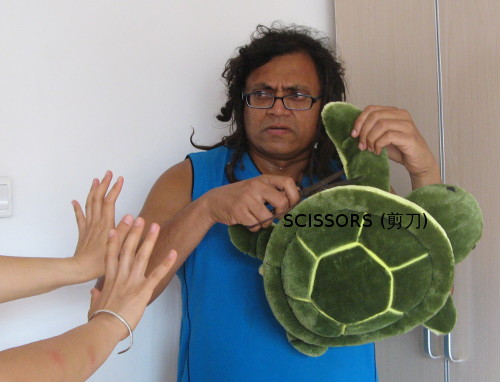 Ok. No cutting turtle, if you agree. In black and white.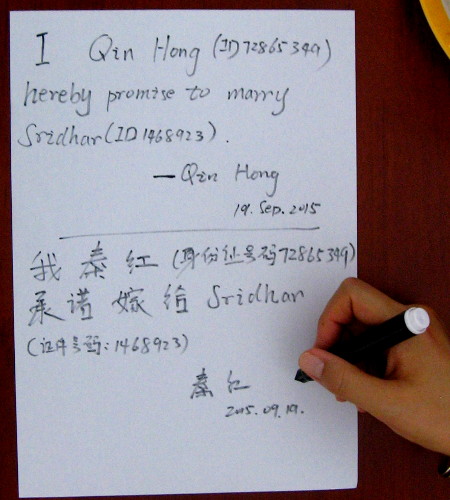 Victory..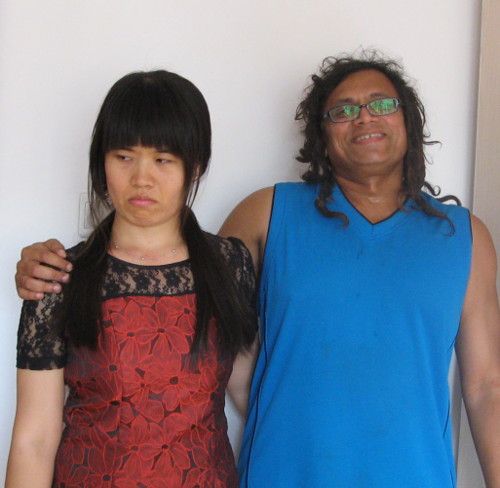 The moral of this story: If at first you dont succeed, get hold of her turtle and a big pair of scissors.

New artwork: I am continuing to experiment with poliyart. The titles are

Fish glimmers at sunrise
Flaunt it if you got it
Dream girl
Princess of Kawahi island

Each of them measures 50x40cm and the media is plastics. Here they are:
Fish glimmers at Sunrise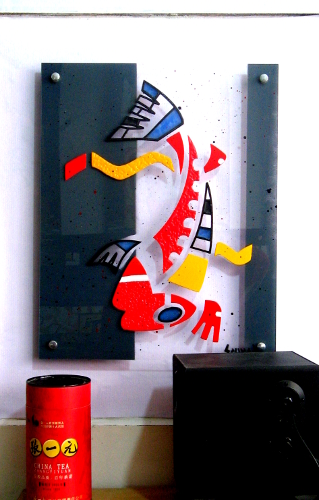 Flaunt it if you got it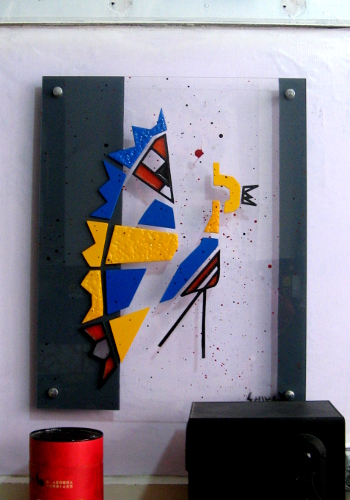 Dream girl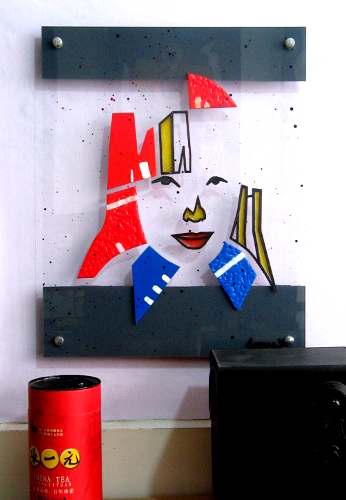 Princess of Kawahi island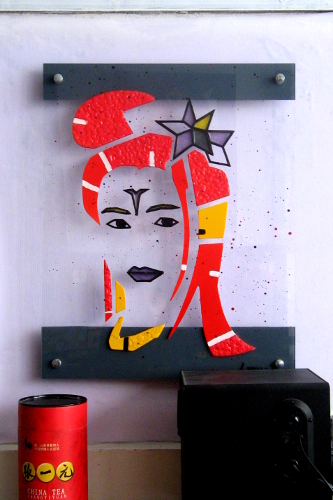 Hope you are having fun.
---
Comment:

雷森明,
Nice girlfriend !great art works! Have a wonderful new life!祝婚姻美满幸福!

Sarah


sarah



你好Sarah,
谢谢你了 :-)
Thanks,
雷森明



Many congratulations!
Natarajan (Nat)



I knew you could do it, but why? What a beautiful couple, congrats but why are you so happy, and she is not? What happened to her turtle? Anyway good luck, hope you are having fun
Cool new work
Thanks, Ralph
Ralph Greene



Hi Ralph,
This is just some creative stuff! Its humor. I will add some titles, so its clearer!

Sridhar



Hi Natarajan,
Thanks much.
Sridhar



Congratulations, Sridhar. I don\'t know Ralph, but I\'d repeat his question. And then add that roles reverse a few years down the line.
All the best.
Rajiv Shukla



Glad to see you\'ve found such a willing partner. Congrats. Love the new works, very playful
laf.art



雷森明,
Yes,i have same question too.Add some pictures what she really enjoy and happy with you ?for she just looking is by your pushing and promising you.i thought this is a another art works .

Sarah


sarah



Hi Rajiv,
Thanks. This is just a humorous photo shoot. Something creative.
Sridhar



Hi laf.art,
Thanks.
Sridhar



Hi Sarah,
The internet is so full of dull pictures showing engagement and wedding pictures. I did not want to add to that. Will add some \"happy\" pictures down the line :-). This IS kind of an artwork.
Sridhar



亲爱的雷森民,你很棒1
邢学英



亲爱的雷森民,你很棒1
邢学英



亲爱的邢学英,
谢谢你了:-)
雷森明



Very funny and creative. You are certainly on a creative high. Love your recent artwork too.
Ken



Hi Ken,
Thanks for your kind comments and your exhibition opportunity. Really appreciate it :-)
Sridhar



恭喜你 朋友
吴佳



你好吴佳, 谢谢你:-)
雷森明



Congrats from Linyi, Shandong Province. Wish you the best!
Emnet



Hi Emnet,
Wow! Long time no hear or see. How are you? Drop me an email if possible.
Thanks much.
Sridhar



So sweet proposal. Congratulations from Taiwan.
Venus



Hi Venus,
Thank you very much. Hope to see you in Taiwan in the near future. If you are in Beijing, do drop by.
Sridhar