Blog
Nov 6, 2013: Special Offer
This is an exclusive. Not been sent by email as part of the newsletter. So if you landed here randomly, this may be a treat for you. Here is a recent painting that I am particularly satisfied with (happens very rarely). Offered at a low price of 200 usd (excludes shipping). Normal price 1000 usd. It measures 30"x20". Offer ends Nov 9 2:00 am GMT.
Fish are one of the most beautiful things. I went sea diving in Florida and the colors and varieties of fish just fascinated me. This one captures a certain feel that I am always trying to nail. It was painted in downtown San Francisco near Embarcedero transit station. Has received a lot of positive comments. Why am I doing this - Vodka mainly and to reward the rare fan :-)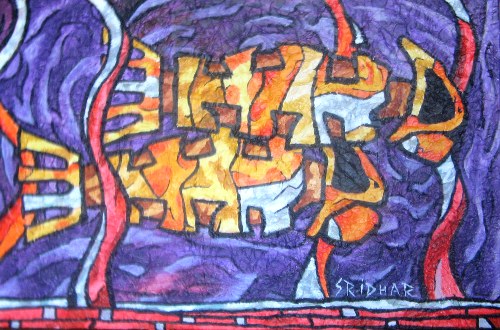 ---
Comment:
Nov 2, 2013: Artwork in San Francisco
I have now been here for a little over a month and feel quite settled down. San Francisco is a very active place. There are numerous big and small events going on. I am getting to know the local galleries and artists and enjoying the energy.
The painting I showed you in the last email letter "Happy to be back in a familiar place" is now complete.
Here
it is shown in different room settings.
Also created two new paintings. Both are almost finished. The first one is still untitled and shows two trees and houses against a dark sky and a large moon. My friend Kayte wanted one such painting and this was painted for her. The second one is a more abstract painting of a waitress. An artist's style changes with the surroundings. After coming to the USA, I am starting to use much stronger lines and a more abstracted approach. Many of my recent sketches are in this direction. Here is the painting. Let me know what you think.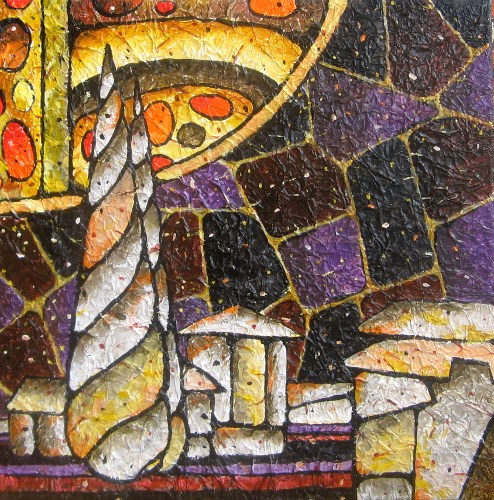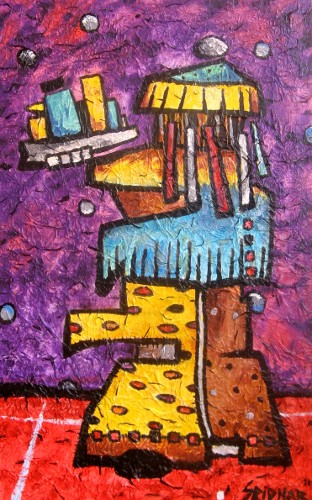 With friends:
My friend Vikas and family had visited my studio/apartment in Oakland. Vikas was my room mate during my grad school in Delaware. It was nice seeing him after 3 years. Here is a photo.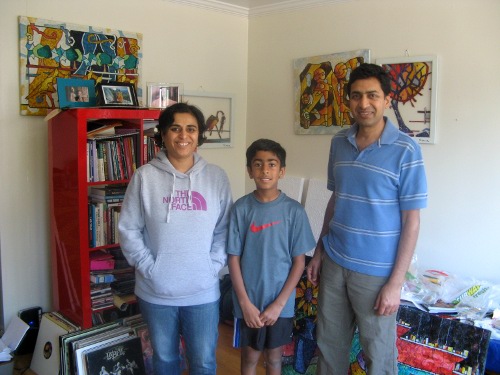 Also met my hostel mate Gautum Ganguly from the Indian Institute of Technology, Kharagpur. He now lives here. We used to call him A Double Dash. I have not seen him in 25 years. So it was a great pleasure when he invited me to his home. We talked a lot and time flew. Here is a photo of him, his wife Moushmi and my painting in their home.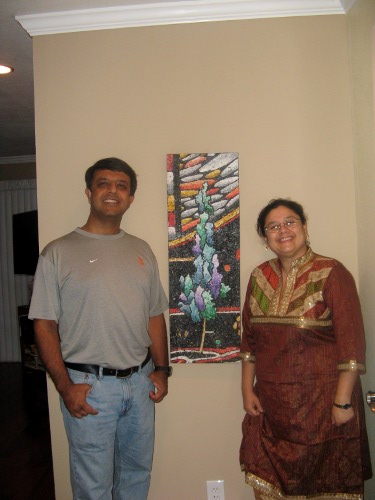 Here is another photo of them with their daughter.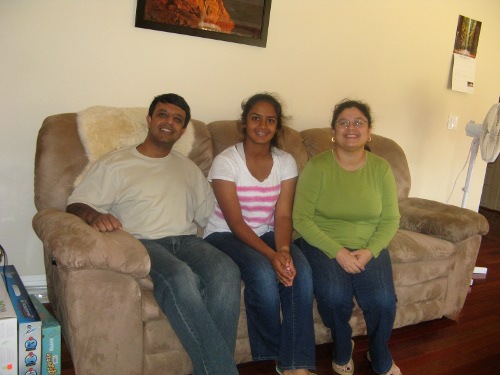 Happy Diwali:
Diwali is the most important festival of India. The Christmas or Spring Festival of India. I realized recently that I have not celebrated Diwali in 25 years. This year my friend Vikas has invited me to their home. Looking forward to it.
Tips for International Artists:
Many Chinese artists have asked me to pass their portfolio on to the galleries here. So far, I have found it to be useless. Introducing foreign artists only works if the artist is very famous in that country. The correct approach is to visit oneself and get to know the gallery and local art folks. It's a long process and takes time. English would certainly be a requirement for this. On the plus side, the technical quality of Songzhuang artists is much higher than what I am seeing here in smaller events.
Question or comments? You can email them to me or leave them here.
---
Comment:

你的新画更有艺术魅力。我更喜欢!
野雪



向你的朋友问好。
野雪



您好野雪老师,谢谢您了,中国和美国的文化又市场不一样。美国也很多小小的很多活动。我听说这年的艺术节会好一些。
雷森明



中国有句古话:"有志者事竟成",加油!
PinZi



哈哈,谢谢你PinZi,希望在天津都好!
雷森明



我觉着能坚持创作比什么都重要!老雷你做到了!
伞天



您好今天老师,
谢谢您了。这年的艺术节会参加了吗?感觉怎么样?
雷森明



知道你的近况很好很替你高兴,宋庄这边正在举办第八届宋庄艺术节,活动将持续至本月的15日。祝你在那边一切顺利!
邢学英



老雷好---问候你的朋友---祝顺利
毛新国



你好邢学英,
谢谢你了。我听说今年的艺术节会好一些。祝贺你天天快乐。
雷森明



你好毛新国老师,
谢谢你了。祝你在宋庄一切顺利。
雷森明



很高兴认识你,异国的艺友,有机会与你同行。详情交流登录网"梁超龙"
梁超龙



你好・看到你的作品・你的用色我非常喜欢・大胆用亮色纯色也是我的习惯・希望你能继续创造更优秀作品・回宋庄见・赵四
赵力



总之中国女人传统一句话・一个人尤其一个男人在外一定注意自己衣食住行・爱护好自己健康・中国人作为第一事就是身体健康・第二平安・第三成就・
赵力



您好梁超龙老师,
我也很高兴认识你。我马上去看"梁超龙"网站。
雷森明



你好赵四,
谢谢你了。来美国我的色彩又设计有点儿改了。这里我每天去外面做事儿,所以健康。你每天跑步一个小时-羡慕你了。
祝贺你也能继续创造更优秀作品。在宋庄见:-)
雷森明


Oct 20: Happy to be back in a familiar place
I have been painting outdoors and many times passers by ask me "Where are you from?" Simple question. Most people will just say, "New York," or "India," or "ZhangYe." The first time someone asked me this question here in San Francisco, I had to hesitate for a second. Do I live in San Francisco? Yes, but only for a very short time. Do I live in China? Yes. But the very next question is "You don't look Chinese." I know its just a polite question seeking a one word or a simple one sentence answer. However no such luck here. After a few trials, I have perfected my answer. I am a US citizen, born in India now living in China. A global nomad. It's then followed by other questions ? Why China? How long? Do you like it? ….
Anyway, I am happy to be back in the USA - a familiar place. One's whose customs, ways and means I am familiar with. And here is the painting that I created, appropriately names "Happy to be back in a familiar place." Of course, I did not know what I was painting when I started. I never do. A true artist never does. The artist starts on a whim and the painting evolves on it's own telling the painter where to draw a line and what color to use and voila, you have the painting "Happy to be back in a familiar place."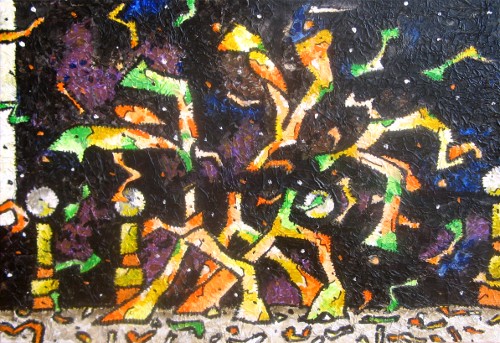 Facebook:
I was on facebook before, but because I haven't used it in a long time, I have lost access to that account. Here is the new one. If you are on facebook, go ahead and
add me
. I am back in touch with many of my old friends. Always nice to reconnect.
Art Walk:
There was an art walk in San Rafael that I participated in. It's a new event and the attendance was rather low, but that was my public display of my art in the Bay area. San Rafael is quite far from Oakland, where I now live. Luckily, my friend Michael came over from Michigan and gave me a ride to and back from the event. It was nice catching up with him. Michael was also in Zhangye where there was a nice group of American teachers working at Hexi university. Here is a photo of me and him in front of my art work.
My work was featured in the newspaper San Rafael Times. Met the executive produce Michael Durand who stopped by to chat and photograph me and my paintings. Here is a
link
to the artist's page at San Rafael Times. Thank you Michael.
The next day, I met my friend Bruce who coincidentally also lived in San Rafael. Also met his friend Ann. He showed me the sites in the Marin county area - very beautiful. The clouds were low that day and as we drove up the hills we could see the clouds below - like an ocean. We also went to a pumpkin patch - where customers can go and select his or her own pumpkin to decorate for the upcoming Halloween. Had a very wonderful Saturday. Thanks Bruce. Here are some photos of Bruce in his home in front of my paintings.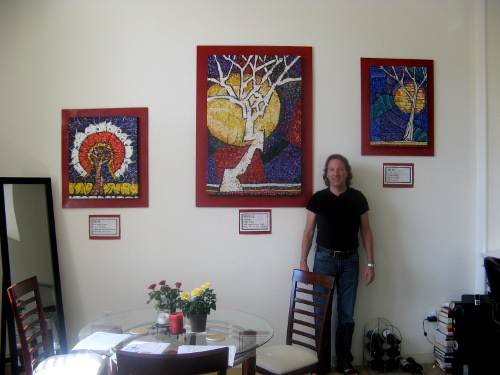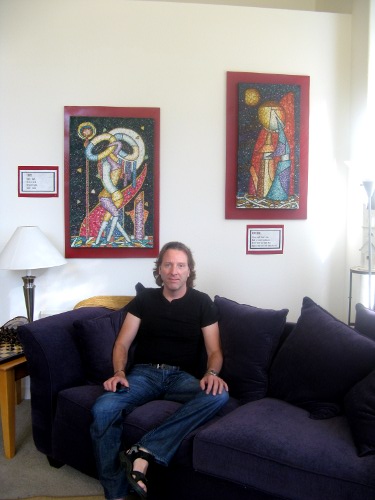 Tip for international artists:
International painters have a big problem - transporting their work. It's expensive to mail and difficult to move. I have been doing this for a while and have gained some experience. Here is a good method to solve this problem. Making the inner frames or stretcher bars for the paintings in the USA is horribly expensive. However, they can be bought in bulk for a cheap price from Jerry's Artarama. So settle on a standard size. Order it. Then in China or other country, paint to those sizes. Move only the canvas not the wood - thus not bulky and heavy. Then in the USA assemble them back. Will make the artist's life very convenient. Wish I had known this years earlier.
Wishing you have a happy weekend. You can write back to me or leave your comment here. Till next time.
---
Comment:

您好,雷森明老师,我是河西学院美术07级的学生,看到您的创作在各个地方展览很羡慕,也非常开心地分享您的成果,王老师加油 !!!
Wang Jie



不好意思,字打错了,"望老师加油!!!"
Wang Jie



你好WangJie,
谢谢你了,我刚觉我的河西学院的个展很好。那个是我的第一个展所以我很兴奋,有很多学生也帮了我。现在你在哪个城市?在哪里上班?有机会光临宋庄。
雷森明



首先祝贺你又有了新的作品,很羡慕你能世界各地的旅行,哪个国籍并不重要,艺术无界限,行者无疆,祝你在艺术的道路上越走越远。
柏川



您好柏川,
你说大是对的-艺术没有界限。 现在我来美国快到一个月了,习惯了。
谢谢
雷森明



中国和美国都是好地方,看到雷老师在美国过的愉快,在这里也替你高兴。
常要稳



嗯,我也帮您搬过画,我也觉得您在的河西学院办的那个展览非常好,不仅给我们带来了新鲜的画风,而且启示我们该怎么做。我在甘肃省礼县偏僻的一个小学当教师,很不满意这份工作,想直接从事绘画,但暂时经济上不支持。有机会一定来宋庄拜访您。
wangjie



你好WangJie,
谢谢你了。甘肃那便很漂亮又安静但是老师们的收入有点儿低。祝贺你的生活会顺利的。
雷森明



您好常要稳老师,
我也感觉中国和美国是好地方。我感觉印度也是好地方。谢谢您了。
雷森明



回到熟悉的地方・让我想起一句话・人生若如初相识・・・活着的人们总是有多少感慨・无论在中国或美国・无论在哪里・平安就好・
赵四



谢谢雷老师!我会努力的,有机会一定登门拜访。
Wang Jie



你好赵四,
这是你第一次留你的评论。你的文化高,你知道很多这样的句话 :-) 回来再见面。
雷森明



Hello, Sridhar! Saw your message on Facebook under IIT KGP Friends. Great to find someone like you. I, too, am from RK Hall and Uuniversity of Delaware, where I did my PhD. I love your art and am proud that someone with whom I have two universities in two continents, and a hall of residence in common, has led such an extraordinary life!

I wish you all the best. Hope to see you in person some time, somewhere!
Tapas Ray



Hello Tapas Ray,
Really nice to meet someone who shares such special things with me. I have sent you an email. Hope to see you too.
Sridhar



对不起・为什么我是第一次留言・因为我真的也是第一次才知道这样留言是对吗・你能收到吗・看到你回答了才知道这样留言是对的・回到熟悉的地方真好・
赵力



人生若如初相识・我也感慨这几个汉字・中国汉字组成语言寓意总是让人欢欣又使人无限惆怅・性情中总是看人生凄美有价值・
赵力



你好赵力,
你写的都在这里,不是吗?朋友们这里留的评论我也收到email。
你说的是对的。哲学上的赵四 :-)
雷森明



祝贺你办这么多画展;去那么多国家;以前不会回复。家里没上网线。祝你在艺术的道路上越走越高。
王海霞



您好王海霞,
谢谢您了。
雷森明


Oct 5: Hello from San Francisco:
The flight to the US turned out to be very smooth. Finding a room for 3 months was a little more difficult that I had anticipated. But anyway, after much searching I found one. Here are some of my paintings hanging on the walls.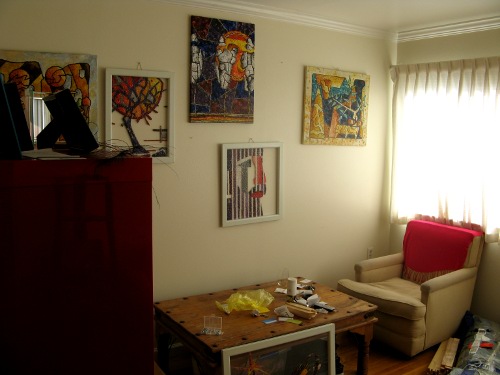 I am living in Oakland, a few miles from San Francisco city. There are many artists here, although compared to Songzhuang they are very spread out and rare. In Songzhuang one can walk outside and meet artists. Not so, here. I met my first artist after a week here. The area I am living in has a large lake called Lake Merritt. Its a wonderful lake and many people go hiking, running or biking around it. Here is a photo.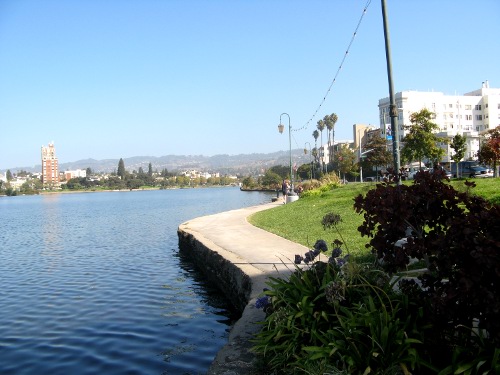 Oakland is cheaper to live than the city of San Francisco, so many artists live here. Also, there are many homeless and drug addicts. Drugs are a major problem. Once a person becomes a drug addict and homeless, there seems to be no escape because the person just stops caring. Some of the streets also have prostitutes. So, its a very mixed place. On the one hand it has artists and "successful" yuppies. On the other hand, it also has the indigent. It breaks my heart to see some of the misery.
Yesterday, went to a fair. They have this every first Friday in downtown Oakland. There was all kinds of live music, food stalls, trinkets.... It was a lot of fun. There were about 15 art galleries that were also open. I was there for about 4 hours.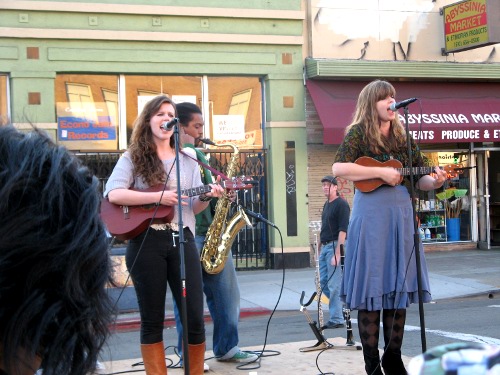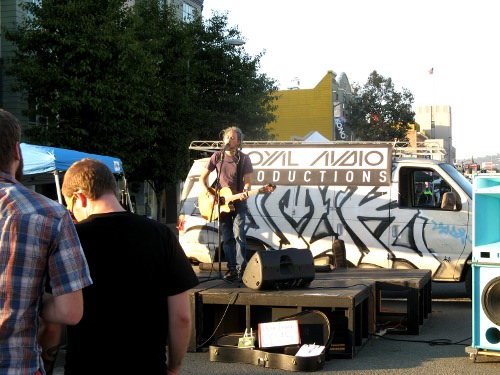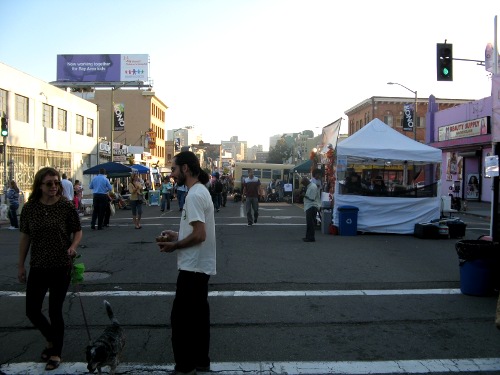 Been very active here and going to different places almost everyday. Quite tiring, but fun. Painted a scene by Lake Merritt. It's still not finished. Here it is.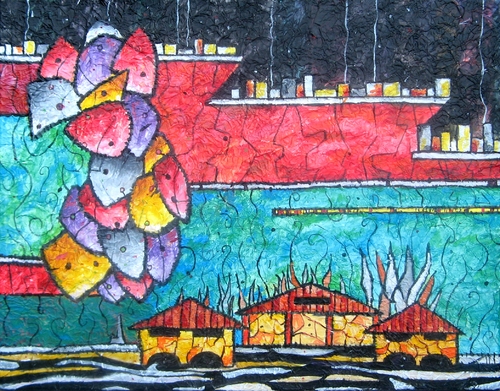 ---
Comment:

Dear teacher, you are so great.
Melissa



Hi Melissa,
Ha, ha. Thank you. You are great too :-)
Sridhar



老雷好----你平实的文字让人感到亲切-----祝顺利
毛新国



Hi Bro! Lovely work as always....
Tanu



Hi Sis,
Thank you. You must be getting ready for your show!
Sridhar



您好毛新国,
谢谢您了。祝贺您也天天快乐!
雷森明



你好,雷杰明!

谢谢你的分享!我的英文不好,就用中文表达我的谢意吧!希望看到你更多的对生活的分享,非常有意思的分享,我希望了解更多你在美国的生活,丰富我的见识,也希望来到中国再有机会再次相聚!问好!
Thank you for your share! My English is not good, use Chinese to express my gratitude! You want to see more of life to share, very interesting to share, I hope to know more about your life in the United States, enrich my knowledge, also hope to have the opportunity to come to China again! Say hello!

安骊羽



看到你的邮件非常开心,特别是国外的风景还有你创作的作品。祝你顺利成功。
李力剑



收到你的邮件我很开心,希望你在美国生活的愉快,还有期待你的新作品!
林建平



您好李力剑老师,
谢谢您了。这里的湖很美,但是生活有点儿孤独的。
雷森明



您好林建平老师,
谢谢您了。我画画的东西有的还收到,然后会忙的,现在有点儿无聊的。
雷森明



您好安骊羽老师,
谢谢您了。我感觉您的英文还好啊!恩,美国的文化不一样,所以是有意思的。大概3个月后我到中国。
雷森明



希望你在哪里一切顺利,回来时带回美国的艺术家,到我这里可以接待,交流。
苗靖涛



谢谢苗靖涛老师,
我回来中国肯定找您。谢谢您了。
雷森明



祝雷森明老师快乐
zheng



您好zheng,
谢谢您了。
雷森明



祝老雷生活工作快乐!
刘新歌



您好刘新歌老师,
谢谢您了,回来找你。
雷森明



雷老师好,看了你的邮件,知悉在那边一切都好,倍感高兴,期待下次回到中国一见。


Andrew



你好Andrew,
这里慢慢的事情都好了。回来肯定见面。祝你们的画展都过的顺利。
雷森明



老雷祝美国生活愉快
左锋义



你好,雷老师,很高兴你又有了许多的新作品,记得第一次看到你作品的时候是几年前,在南昌的一所大学里,你在那办了画展,那时候我还是哪里的学生,今年我毕业了,真想什么时候能够有机会再一次近距离的欣赏你的画,祝你一切顺利
范德明



您好左锋义,
谢谢您了,现在还可以,有点儿习惯了。这里艺术的有很多活动。
雷森明



你好范德明,
你毕业了-祝贺你,现在在哪里上班?有空光临我的北京的画廊看画,你也可以买画-小的不贵。我的以前的学生也有折扣 :-)
祝贺你天天快乐。
雷森明



雷森明,我已经看到你发来的邮件,谢谢我亲爱的朋友,希望你在那边同样过得开心快乐!
邢学英



你好亲爱的邢学英,
谢谢你了。最近都好吗?这里都好。回来宋庄见你。
雷森明



很好,雷森明,有需要我帮助的时候你告诉我一下,我愿为你代劳。你的网站做得很好,回到北京来以后也教我做一个这样的网站。看到你每天过得充实而又快乐,很羡慕!等将来有机会有条件我也想去旧金山、好莱坞等地方进行一次长途跋涉。
邢学英



收到来信,非常感谢!
胡汉华



你好邢学英,
我感觉去外国是很有意思的,有机会你肯定去美国旅游。祝贺你天天快乐。
雷森明



您好胡汉华老师,
谢谢您了!
雷森明



你好,我现在在南昌的一家会计公司上班,能把您北京画廊的地址发到我的邮箱吗?我的邮箱是fandeming2008@163.com谢谢您了,有机会我像去你北京的画廊看看,然后再买您的画收藏,谢谢了!
您说到您以前的学生,您还带学生吗?我很乐意成为您的学生。
祝您天天开心.
范德明



你好范德明,
我发了email。有机会光临我的画廊。
雷森明



你好,谢谢了,有机会我就去参观.
范德明



您好范德明,
谢谢您了。
雷森明


Sep 20, 2013 Off to the USA
I will be leaving for the USA soon. Will live in the San Francisco area for about 3 months networking with the art community. I have not lived in the USA for more than 10 years and miss it in a way. My exhibition in Houston at Bisong gallery will be in November. Because all my screen paintings are medium to big and difficult to transport, I prepared three smaller screen paintings. I am quite happy with the way they turned out. Here they are: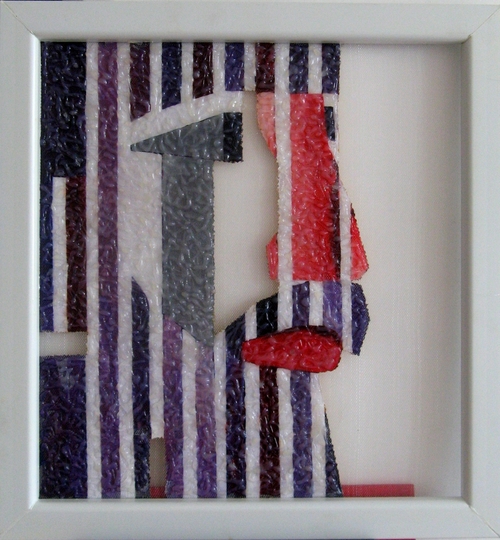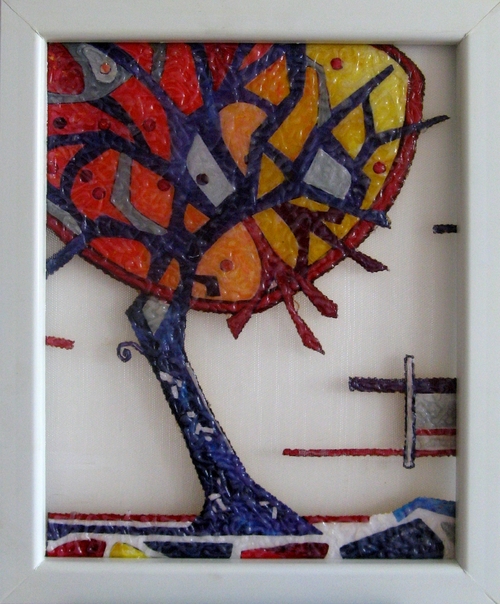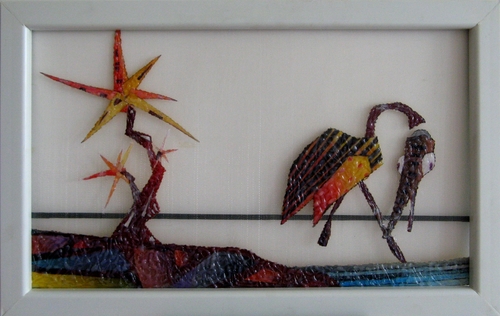 Body Art:
I had a friend drop by my gallery a few weeks ago. She wanted a painting on her forearm. I painted a golden snake using acrylics. Here is a photo.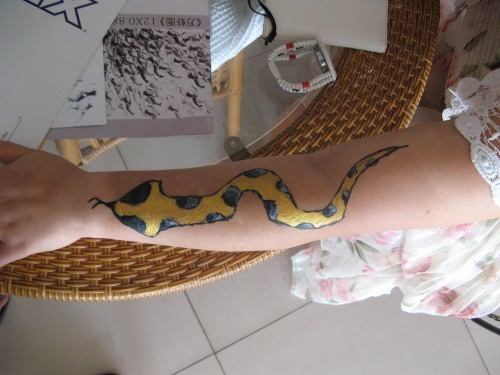 Healthy Sridhar:
I have been quite disgusted with the amount of weight I had put on. I was about 105 kg about 2 months back. I have been exercising almost everyday and my weight has now dropped to 95 kg. Here is a photo of me flexing my muscles. I still have lumps of fat, but its not as bad as before. Doing exhibitions internationally is lots of physical hard work. I think I am ready this time. This will be my fourth International exhibition and I am learning how to do them effectively.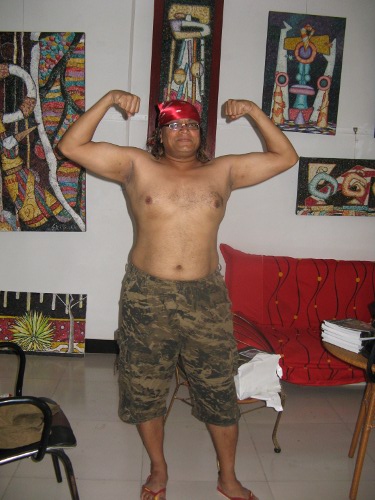 Interview:
A reporter of a big arts magazine dropped by my gallery and did an interview. He came back a few days later with his camera crew - very professional. They were very impressed that I rode a bicycle - very artsy they said. The interviewer also said that I was a natural model - this is the first time I am hearing this in my life. Happy. Here is a photo of the interviewer and camera crew.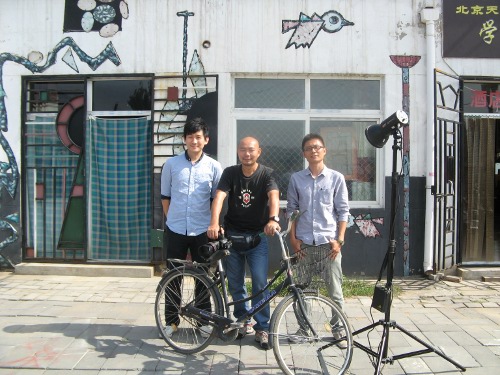 It's mid-Autumn festival here in China, and people are crowding the streets and eating moon cakes. Hope you are too.
---
Comment:

Bullda-great!
leto

leto



Hi Leto,

Thanks man. Hope things are great in Bangalore.
Sridhar



老雷你是最帮的
左锋义



支持你的作品。很好。很有装饰表现力。很有作品灵魂,美国之行收获大大的,祝你开心快乐有成就。1021581515qq15876677198
画家张恒久



您好张恒久老师,
谢谢您了。有时间欢迎我的画廊。
雷森明



您好左锋义老师,
哈哈!谢谢您了。
雷森明



祝你成功,





柏川



您好柏川老师,
谢谢您了!
雷森明



hi bro.... great work as usual! but i like the 2nd from top the most! all the best!!!
tanushree



祝雷老师美国之旅顺利圆满。画展顺利成功。
李力剑



Hi sis,
Thanks so much. Good luck with your exhibition.
Sridhar



您好李力剑老师,
谢谢您了:-)
雷森明



你的作品色彩艳丽而又饱满,有很强的装饰性,而且又很好地融合了中西文化。你的作品较之前有所突破。你在不断地探索不断地创新,相信你会有更棒更多的作品面世,祝你这次国际画展取得更好的成绩!
邢学英



您好邢学英,
谢谢您了。去外地的地方有不同的灵感,所以画也有点儿改了。
雷森明