Blog
Sep 20, 2015: Engagement photos:

Many of my friends have asked to see my engagement photos. Here they are. Humorous photo shoot :-)
CAUTION: HUMOR AHEAD
Please marry me.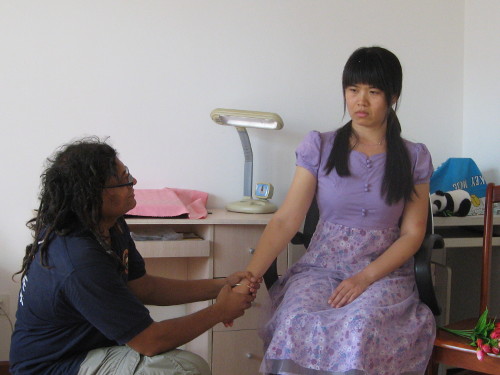 Please..please...please... marry me.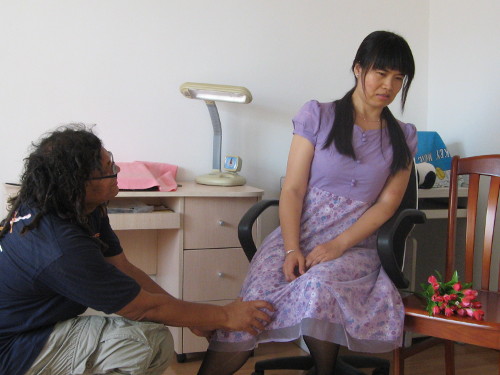 The drunk rejected lover.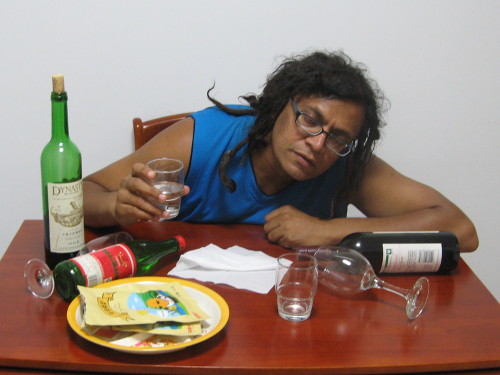 The drunk threatens to cut the turtle. OH NO......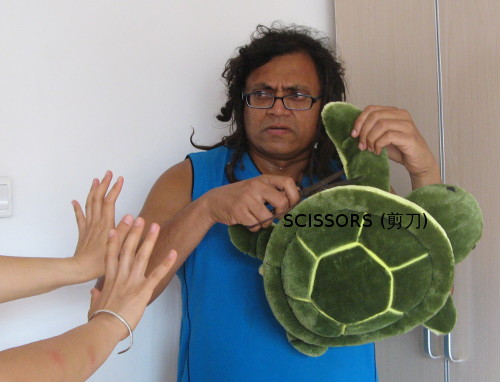 Ok. No cutting turtle, if you agree. In black and white.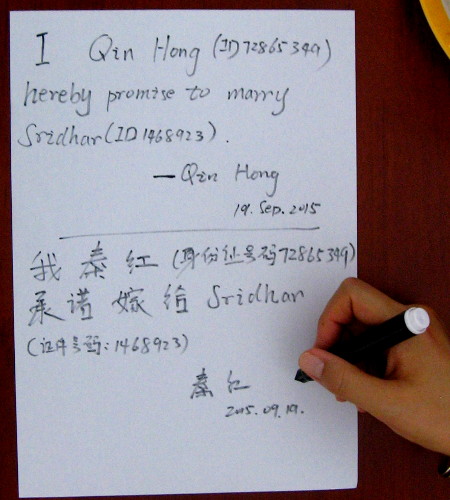 Victory..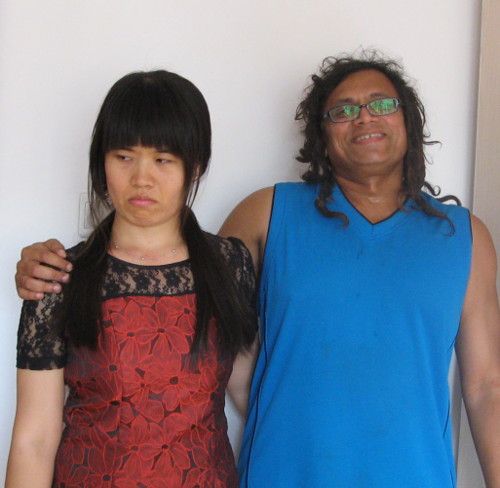 The moral of this story: If at first you dont succeed, get hold of her turtle and a big pair of scissors.

New artwork: I am continuing to experiment with poliyart. The titles are

Fish glimmers at sunrise
Flaunt it if you got it
Dream girl
Princess of Kawahi island

Each of them measures 50x40cm and the media is plastics. Here they are:
Fish glimmers at Sunrise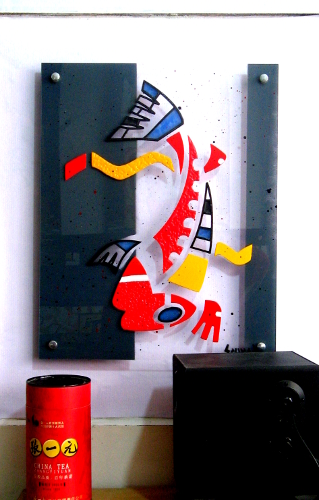 Flaunt it if you got it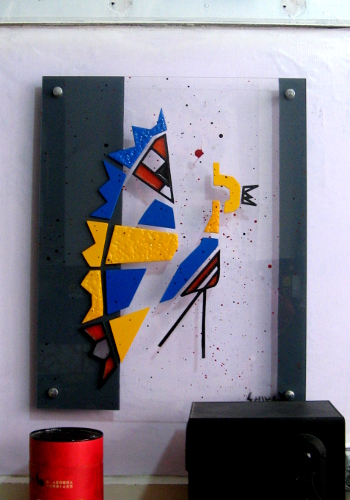 Dream girl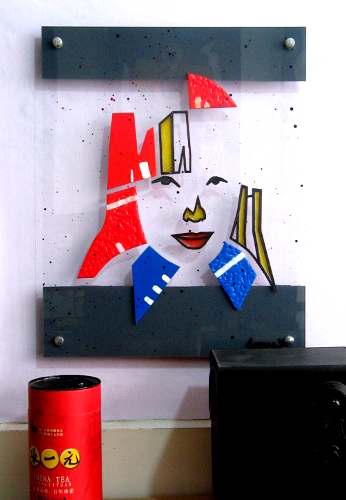 Princess of Kawahi island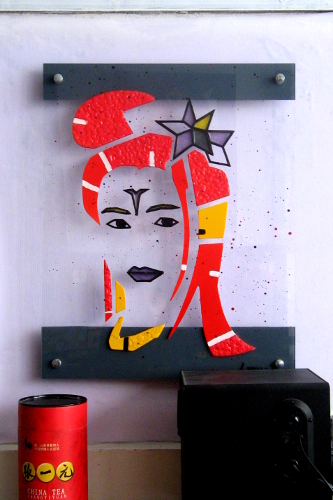 Hope you are having fun.
---
Comment:

雷森明,
Nice girlfriend !great art works! Have a wonderful new life!祝婚姻美满幸福!

Sarah


sarah



你好Sarah,
谢谢你了 :-)
Thanks,
雷森明



Many congratulations!
Natarajan (Nat)



I knew you could do it, but why? What a beautiful couple, congrats but why are you so happy, and she is not? What happened to her turtle? Anyway good luck, hope you are having fun
Cool new work
Thanks, Ralph
Ralph Greene



Hi Ralph,
This is just some creative stuff! Its humor. I will add some titles, so its clearer!

Sridhar



Hi Natarajan,
Thanks much.
Sridhar



Congratulations, Sridhar. I don\'t know Ralph, but I\'d repeat his question. And then add that roles reverse a few years down the line.
All the best.
Rajiv Shukla



Glad to see you\'ve found such a willing partner. Congrats. Love the new works, very playful
laf.art



雷森明,
Yes,i have same question too.Add some pictures what she really enjoy and happy with you ?for she just looking is by your pushing and promising you.i thought this is a another art works .

Sarah


sarah



Hi Rajiv,
Thanks. This is just a humorous photo shoot. Something creative.
Sridhar



Hi laf.art,
Thanks.
Sridhar



Hi Sarah,
The internet is so full of dull pictures showing engagement and wedding pictures. I did not want to add to that. Will add some \"happy\" pictures down the line :-). This IS kind of an artwork.
Sridhar



亲爱的雷森民,你很棒1
邢学英



亲爱的雷森民,你很棒1
邢学英



亲爱的邢学英,
谢谢你了:-)
雷森明



Very funny and creative. You are certainly on a creative high. Love your recent artwork too.
Ken



Hi Ken,
Thanks for your kind comments and your exhibition opportunity. Really appreciate it :-)
Sridhar



恭喜你 朋友
吴佳



你好吴佳, 谢谢你:-)
雷森明



Congrats from Linyi, Shandong Province. Wish you the best!
Emnet



Hi Emnet,
Wow! Long time no hear or see. How are you? Drop me an email if possible.
Thanks much.
Sridhar



So sweet proposal. Congratulations from Taiwan.
Venus



Hi Venus,
Thank you very much. Hope to see you in Taiwan in the near future. If you are in Beijing, do drop by.
Sridhar


Sep 6, 2014 - New Artwork

As mentioned in the previous newsletter, I have invented a new form of artwork using plastics. It involves a lot of computer controlled machines and designs. I am calling this new form of artwork, Polyart, because it uses polymers (plastics, resins, PVC, plexiglass …) and its art.

As its new, I am still learning a lot. Here are some more pieces that I have produced. All of them are Polyart, measure 50cmx40cm.
Sunflowers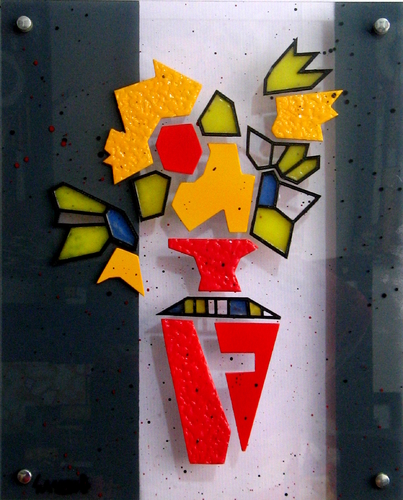 Six Leaves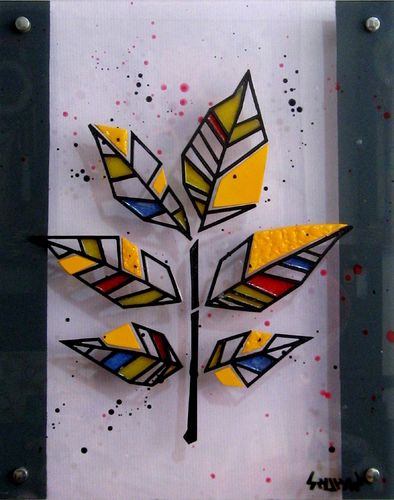 Stones Clouds Sun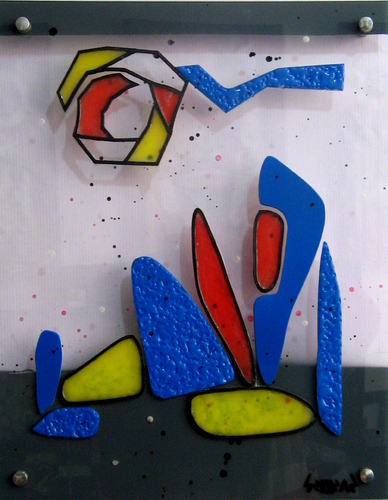 Two Bell Women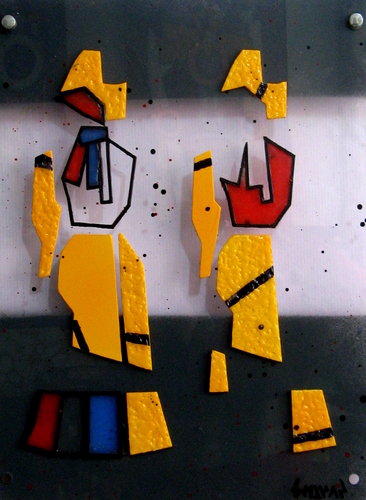 Bamboo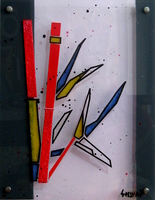 As an artist, what do I think of the difference between the two forms of artwork? Oil paintings are very direct. I use the brush and paint and modify as needed directly. Polyart is more of a process. Because the artwork cannot be changed once appliced, the design has to be completely finished before the processing starts. So its delayed gratification, sort of. I can see my changes in the artwork only after about a week of making the design changes. The upside is, once the first piece is produced, the subsequent pieces become much easier and cheaper to produce. The Polyart pieces are available for 70usd. They have a very clean, transparent look and fit modern spaces very well. Contact to buy.

I have also opened a new store on taobao.com to serve customers. Let me have your feedback. Thanks.
---
Comment:

您的作品很棒
Lucy



您好lucy,
谢谢您了。
雷森明


Aug 21, 2015: Technology meets Art
Left brain versus right brain.
Technology versus art.
Logic versus intuition.
Engineers versus artists.
Structure versus nature.
The two rarely meet.
But once in a while, they do... as in my recent artwork.
Technology - they use microcontrolled machines. A 3d printer and a CNC router - assembled by yours truly. Along with resin casting, stencils and spray paint technology.
Art - created on plexiglass, using plastics, PVC, resin, acrylic and enamel paints. Because they use technology, the costs to make multiple pieces is much cheaper.
These are 3d artworks, as they project out of the plexiglass. They are mounted on special screws (included). The transparency of plexiglass gives the artwork a floating appearance. Very modern and clean.
Here they are:
Woman smelling flower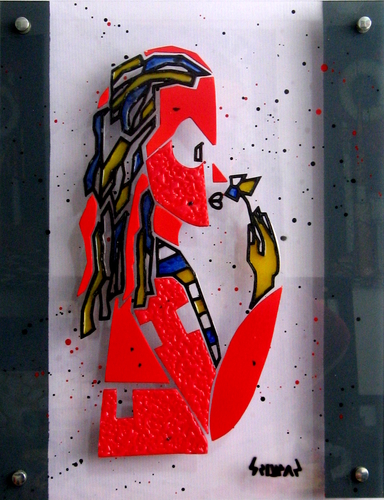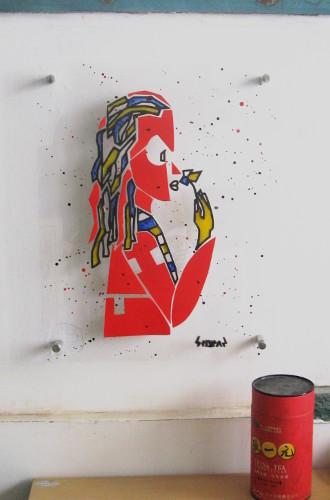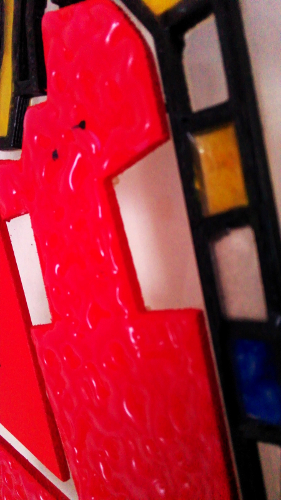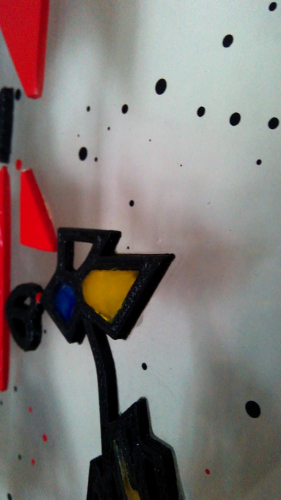 Rocks, clouds, sun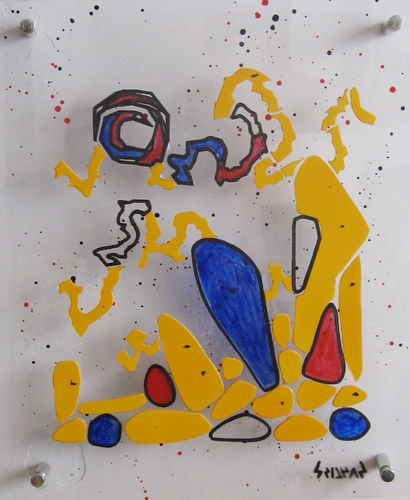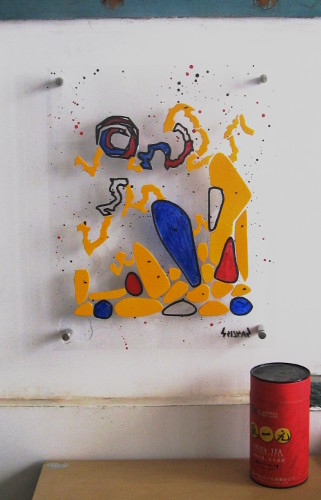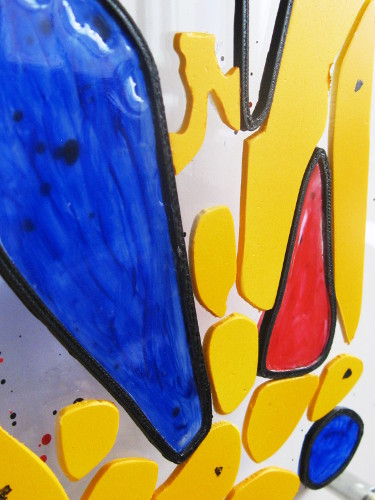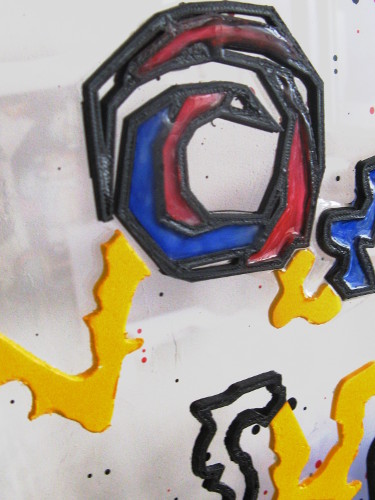 Jar and curly flowers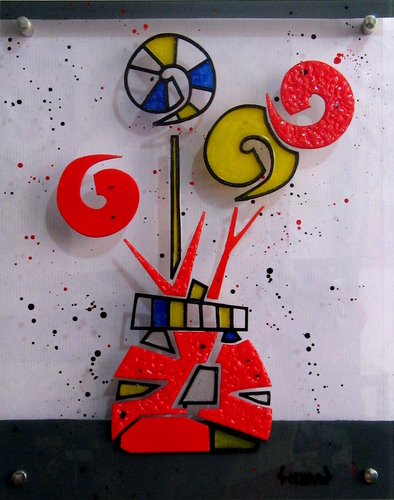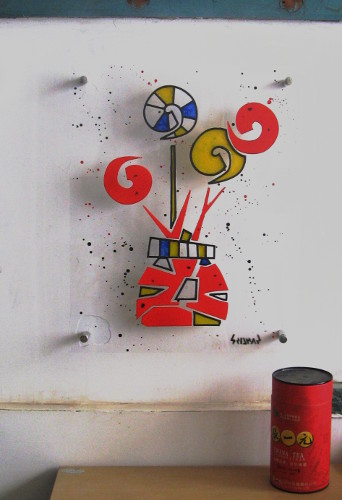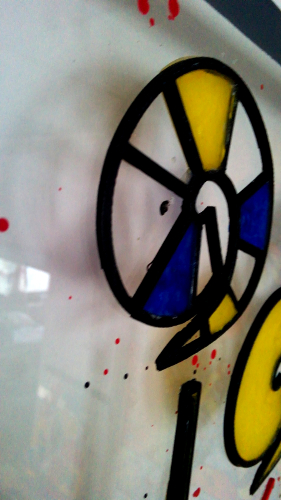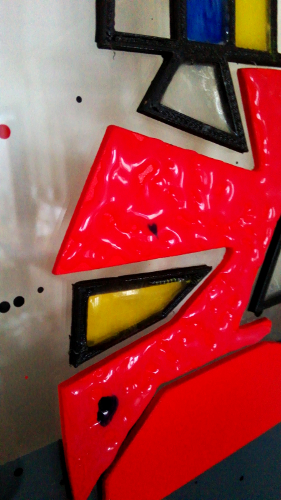 Deer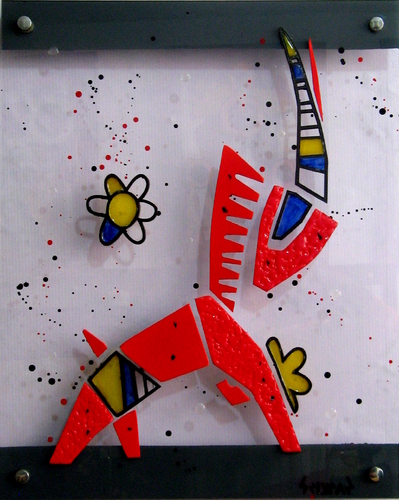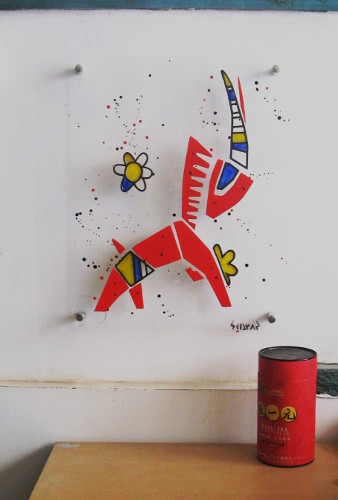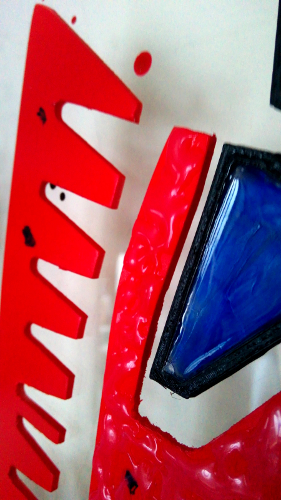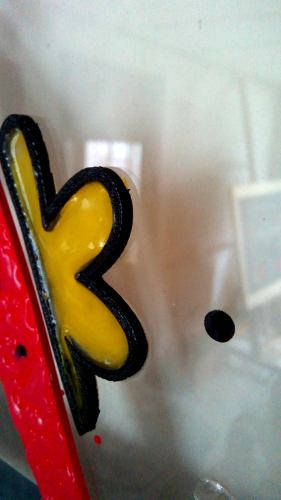 Peacock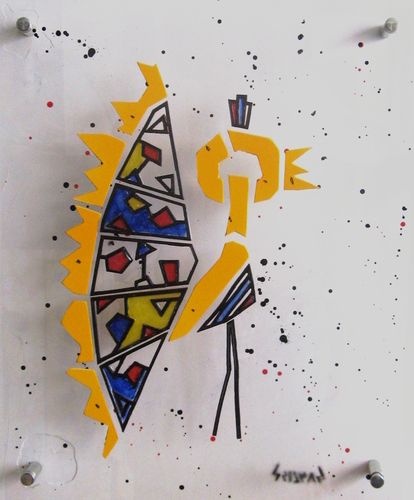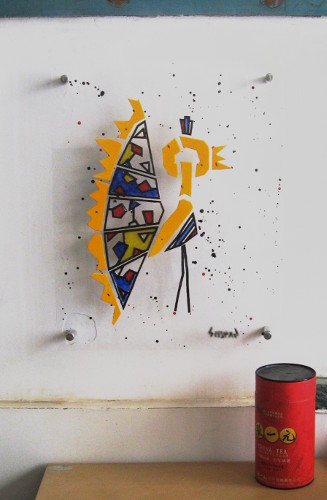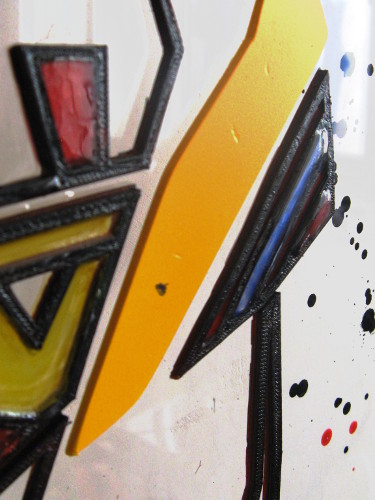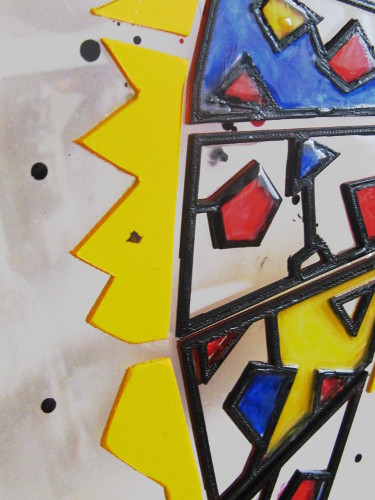 Each one measures 50cmx40cm and is available for 70usd. Shipping and handling not included. Please contact for purchase.
---
Comment:

很好的作品!
战全慧



你好战全慧,
谢谢你了。
雷森明



好久没来雷老师这边看看了。作品很有美感,有意思。
Andrew



你好Andrew,
谢谢你了。希望你天天快乐!
雷森明


Aug 6, 2015
Should I or shouldn't I?
My mind raced through the rolling Mongolian plains. There were risks, but then again there were rewards. Risk - they beat up foreigners like me on a regular basis. Reward - it was a place I could not even have dreamed of visiting when I was a teenager. Risk - I did not speak a word of the Mongolian language. Reward - the exotic, as yet untried food. Risk - I did not even have a change of clothes with me, not even a toothbrush. Reward - see the land of Ghenghis Khan first hand.
I was lying on the berth of the train heading towards ErLian - the Chinese border town with Mongolia. It was supposed to be a simple visa run - you know where people with limited duration visas have to leave China every 2 months. My plan - cross the border, get the required stamp and head right back to China. Whole trip can be done in 30 hours from Beijing. I knew it. I had done it before. So I was traveling very light.
But during my previous three trips, something had been pulling me towards the heartland of Mongolia. As soon as I crossed over to Zamin-Ud, the Mongolian border town, I would want to explore Mongolia further. After all, I had come such a long way from Beijing. Why not just hop on a train and head to UlanBataar, capital of Mongolia. But I had chickened out - all three times. Its like seeing a delicious mango on the table and not having the courage to reach out and try it.
This time it was different. Things had clicked wonderfully. Kismet, one could say. I had met a student from Mongolia who was studying in Beijing. He told me where to buy the train ticket, how much it was, what time the train left Zamin-Ud and what time it arrived in UlanBataar. The train ticket was cheap. The train would arrive in UlanBataar in the early morning, thus giving me ample time to find a hotel. Everything seemed to be perfect.
Should I or shouldn't I?
I made up my mind - I should. I turned in my berth and settled into a comfortable sleep as the train raced through the rolling Mongolian plains.
Arrived in ErLian at 9 pm. Found a hotel.
The next morning, I crossed the border into Zamin-Udd. The border crossing is interesting. This is a remote place, frequented mostly by Mongolian traders who buy goods in China and move it to Mongolia. They do it every day. Their passports are thick and covered with numerous entry and exit stamps. Crossing the border is not allowed on foot. So, one has to find a vehicle. The traders use old, battered jeeps to move their merchandise. There is almost no room for an extra person, but you know the saying - necessity is the mother of invention. So one pays the driver money and squeezes in. The process is quite tedious and the people quite rough. Patience and a smile helps a lot.
After the official procedure and the all important exit stamp, I found myself in Zamin Ud, Mongolia. I changed money in a local bank using sign language. Then, "Train Ticket" I asked a few people. Of course, most had no idea what I was saying. But one teenage girl laughed and pointed me to a building. In, I went. At the counter, I said "Ulan Bataar" and signalled one with my finger. The lady gave me a paper with 3 prices on it. I chose the middle one and soon had a ticket to Ulan Bataar.
A long wait and then I boarded the train. It was surprisingly clean. In my experience most poor countries are dirty, but not Mongolia. Indian and Chinese train floors are covered with rubbish within a couple of hours of the trip. Not so in Mongolia. It was clean through out the trip. The fellow passengers were hostile in the beginning but later quite friendly. There was a group of 4 students also heading to UlanBataar. There are numerous such students. We chatted about Ulan Bataar in Chinese (Chinese is becoming the lingua franca in several places). They told me about student volunteers that help tourists. Then they started playing cards.
The next morning, the train arrived in UlaanBataar. I could not believe myself. The pround land of Ghenghis Khan and the coldest capital in the world. As soon as I got off the train I spotted a student volunteer - Kismet - God was certainly watching over me! His English was excellent - the student, not God. I talked to him and he helped me buy a train ticket back to Zamin Ud. Then, I headed out of the station and walked around wondering what to do. Nobody could understand me. I wanted to eat breakfast but I could not understand any of the signs. Then I saw local buses. I hopped on to one of them.
The bus headed towards a posh area, one with embassies and expensive stores. Then it went through a middle class area. I noted all the hotels here. Numerous bars. Alcoholism is a major problem in Mongolia. Then, the bus went to the outskirts where it was quite rough but more traditional Mongolian. I got off and started walking back. Got some water. Things in Mongolia are much more expensive than in China, I found. I walked for about 4 hours, checking out 5 hotels on the way. Then I found one that was reasonably priced. Got a room after much communication problems. I got to my room, threw my bag on the chair and lay down on the bed, with a big smile on my face. I was in Mongolia. Had a room and a return ticket. All set.
I stayed in Ulan Bataar for 3 days. Visited the Ghenghis Khan square and the attached museum. There is also a National historical museum near the square. Well worth a visit. Mongolia has a Turkish ethnic minority. One of the guides told me that about 600 years ago, Turkish people were common. The food in UlanBataar reflects that. One of the most delicious food I had was Turkish Kabaf ? sort of a sandwich. They eat a lot of meat in Mongolia. Mutton is cheap - 20 rmb a kg versus 60 rmb in China. Beer is good. Some of the other food are mixed. The women are beautiful. In all my travels, I think Chengdu, China has the most beautiful women (its also renowned as such). Second is probably UlanBataar. Cheating foreigners is very common, so if you are a foreigner just think of it as a tax. I quarreled quite a few times with the locals regarding this. I did not venture out after midnight. Its considered dangerous for foreigners to do so.
Overall, it was a very satisfying trip and taught me that sometimes its good to do things on the fly. Life is more interesting that way.
Here are some photos that I took along the way: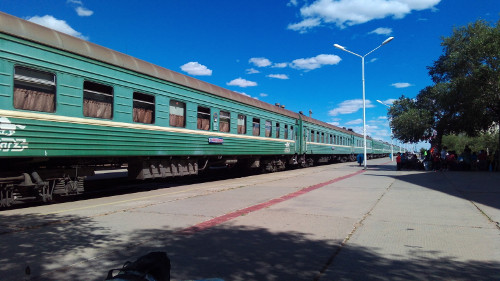 Train to Ulan Bataar at station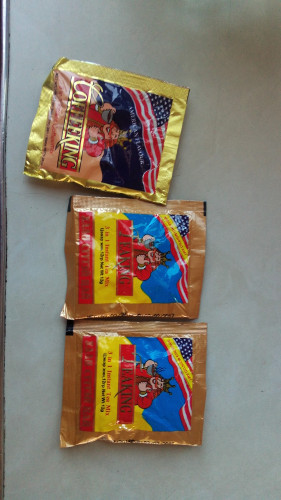 Coffee and tea packets given to passengers by the train attendants. They also give a cup and hot water.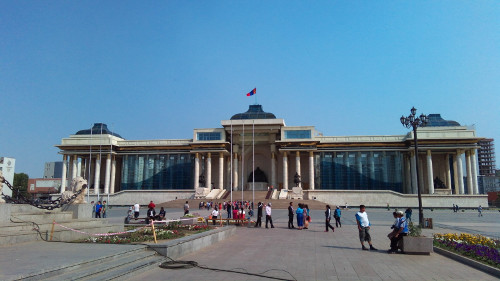 Ghenghis Khan square.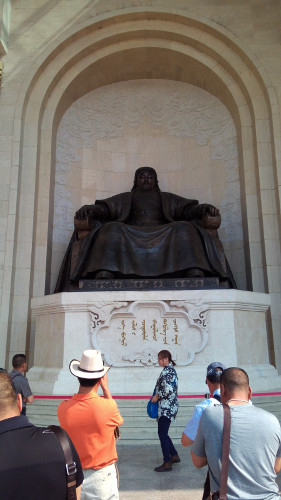 Statue of Ghenshis Khan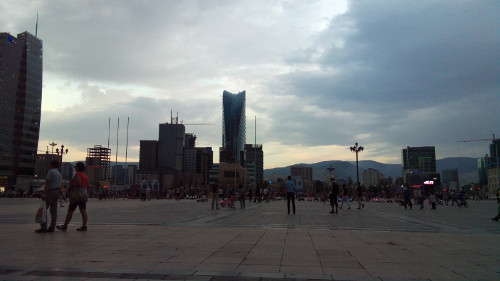 View from Ghenghis Khan square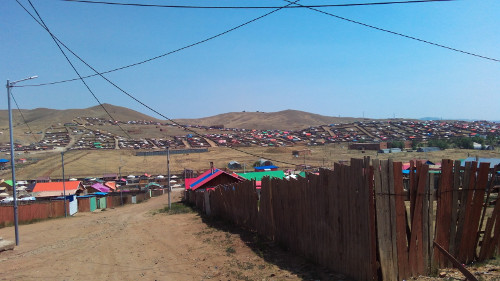 City outskirts - each house also has a traditional Mongolian tent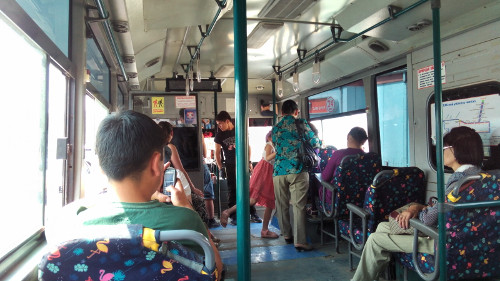 Inside a bus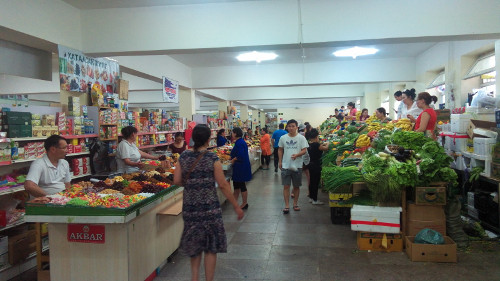 Shopping center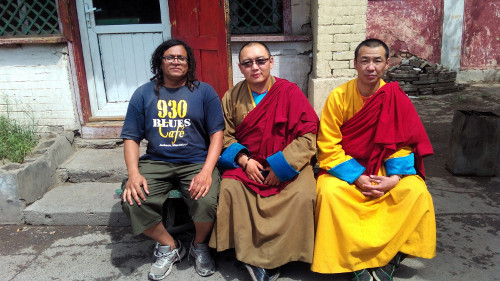 With monks, I met at a Budhist temple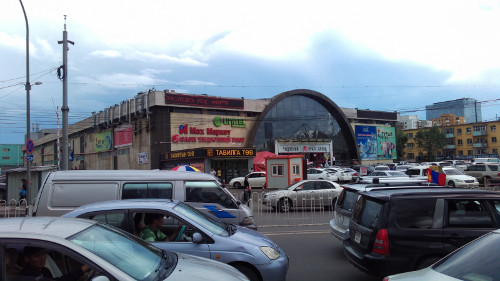 Another shopping center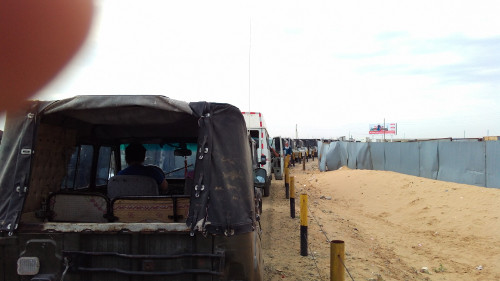 Jeeps lined up to cross the border


New Art Work:
I have been experimenting with the Arduino microcontroller platform for the past year or so. It makes programming chips very easy. Currently, there is a big gap between the computer and the rest of the real world. One can do all sorts of things on the computer, but not to anything outside it, such as actually moving or manipulating things on a desk. The gap is now closing. Sensors, motors and chips have become so cheap and good that there is a good grassroots community growing around this field.
I also have a DIY 3d printer and a small CNC routing machine. Thinking of an idea at night, creating the computer model in the morning and having the solid object on the desk by afternoon is a very powerful feeling. One needs to do it to understand. I have described it to my engineer friends and relatives but they dont get it. I am certain, once they do it, the light will click on.
I am using this technology to create artwork on plexiglass. Because plexiglass is transparent, the design and color esthetics are different from anything done on paper or canvas. I have been struggling with plexiglass for about 3 years and believe now have a decent grasp. There are several steps involved and I am now experimenting with one of the last steps. Hopefully, will have some pieces to show you in the next newsletter.
In the meantime I have also been painting more traditional paintings. Here are some -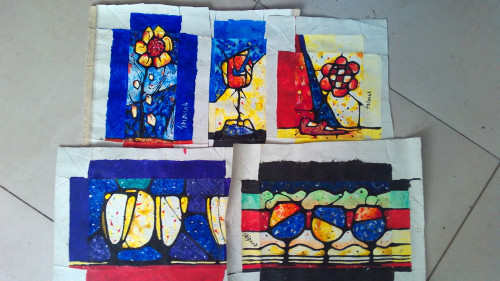 Small paintings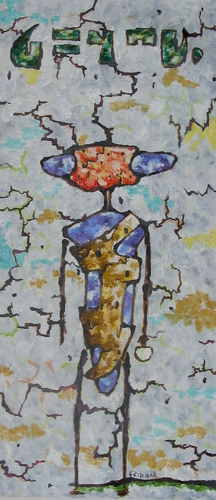 Indian monk



Children at beach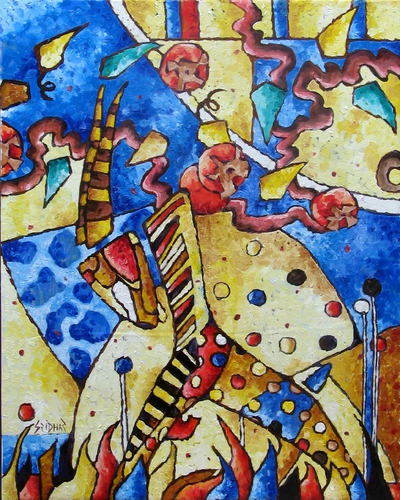 Deer and vines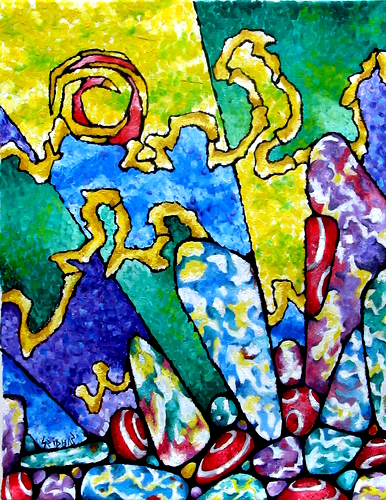 Stones, clouds, sun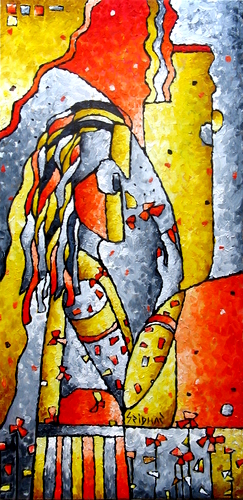 Girl smelling flower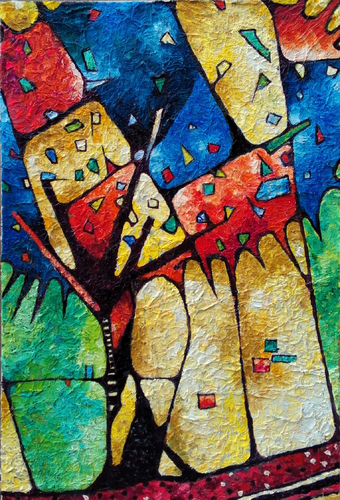 Ernest's tree - this painting is already sold. Thanks WangPengFei (Ernest)!


---
Comment:

Always good to hear about how your life is progressing, Spider. If you find yourself in New Hampshire look me up.
Paul AYCE Nanian



Hi Paul,
Nice to hear from you too after such a long time. Will certainly look you up if in NH. You do the same if in Beijing.
Sridhar



祝你一切顺利
吴佳



你好吴佳,
希望你天天快乐!
雷森明



看到您又一次的冒险旅行,真的很羡慕您!看到您的照片和画都很美!
李庆丽



你好李庆丽,
很久没联系。谢谢你了。外蒙古是很有意思的一个国家。有机会你也可以去。
夏天了,喝多水,吃很多西瓜,哦.
雷森明



thank you for daring & sharing your adventure, have dreamed of taking it myself. glad it went without a hitch.
you are delightful, and your art expresses so!
karen



Hi Karen,
Thanks for visiting and also thanks for your wonderful comments. Sometimes, its good to do things on the spur of the moment. The Mongolian trip will be something I remember all my life.
Wish you much happiness in Seattle.
Sridhar


Dec 7, 2014: Exhibition opening and an art trip
The art exhibition opening at 798 art district went well. There were many international visitors. There were people from the Australian embassy as well as several international art culture companies. Thanks to Wang, who made all this happen. He is a guy with a very high energy level. His wife is British and one of the other artists exhibiting at the show. Photos here.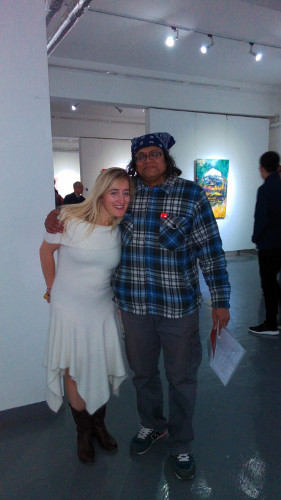 798 is similar to SOHO of New York. It is the art center of China, which in turn is the second biggest art market in the world, right after the USA. Here are some photos of the opening.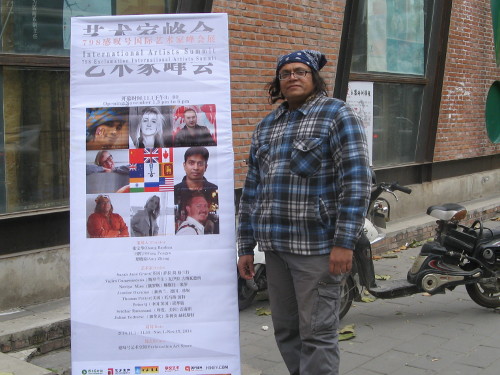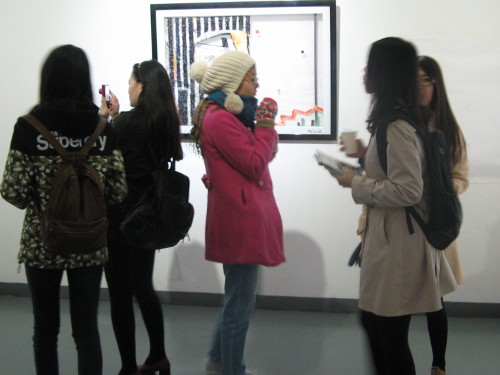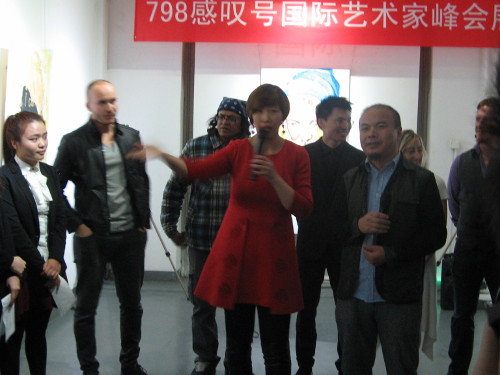 After the opening, there was a trip to Shandong organized by Elion culture group. This was great, as I have been working alone for quite a while and have been a little bored. It was an excellent opportunity to mingle with other artists. The event got us to several primary schools where the Elion art company distributed art supplies to school children. It was fun watching the children paint. Children have a natural creativity that is refreshing to watch.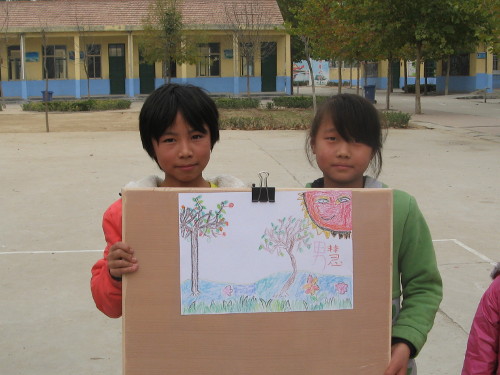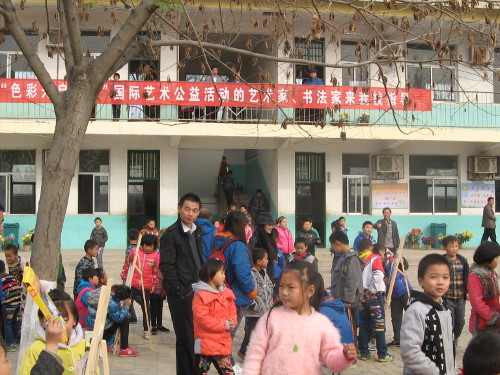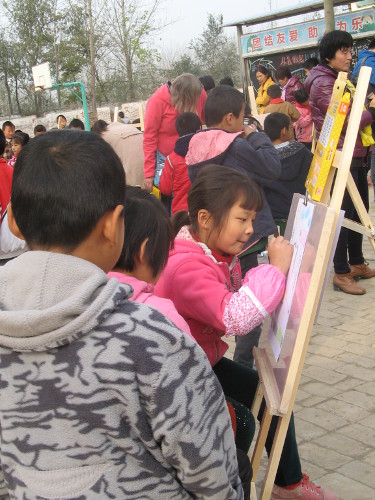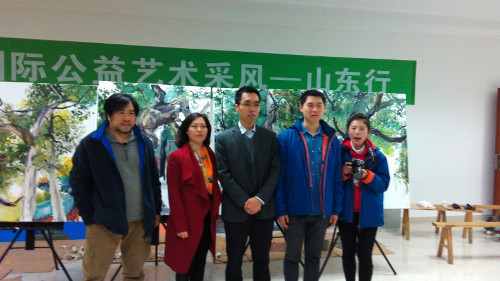 After visiting many schools we started painting in the city of Heze, Shandong. Most of the artists were painting in an impressionistic to abstract style. However, there were three artists who had their own voice. I enjoyed seeing their orks progress. Here they are:
Artist Aliya: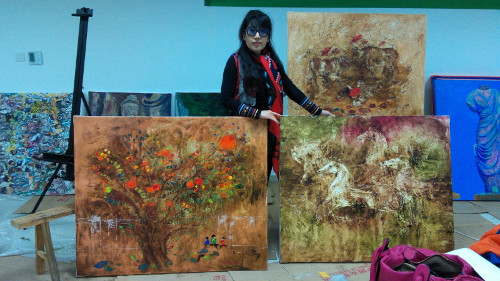 Artist Yang: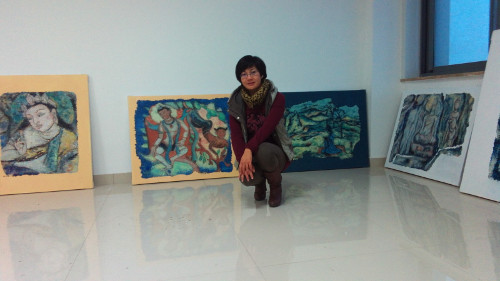 Artist Li: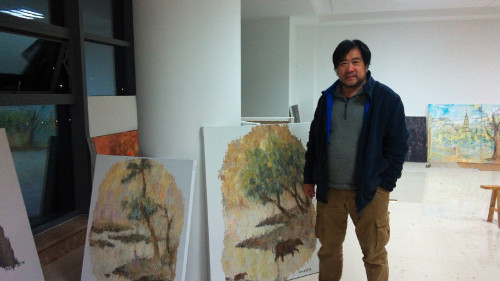 I produced 4 art pieces. One was a sculpture/mixed media using tires that the factory that hosted us manufactured. Another was a multi-color print of tire tracks on canvas. The remaining three were more conventional paintings. One titled - Three woman and apple, Three Musicians and Wawa Tree. Here they are: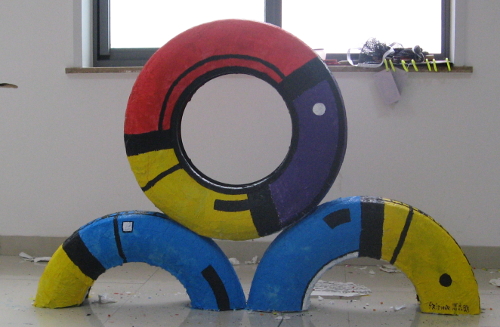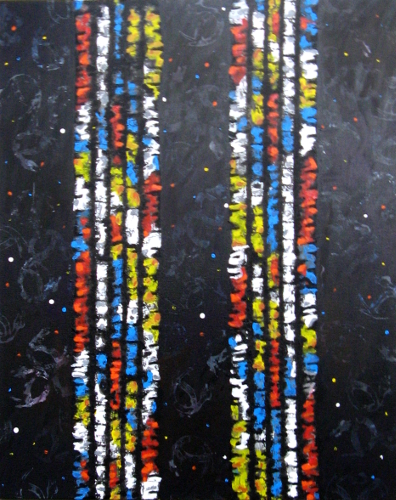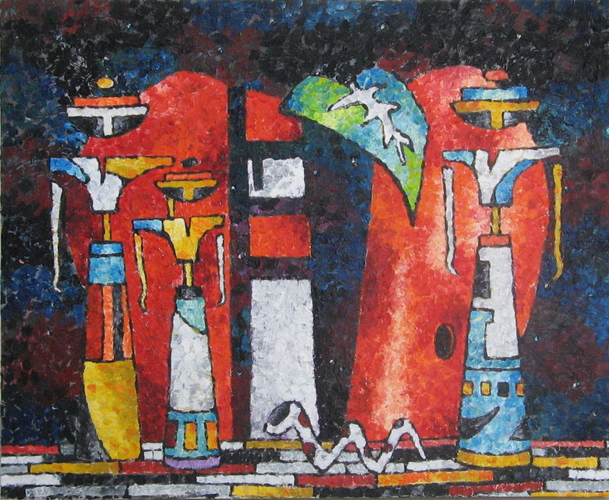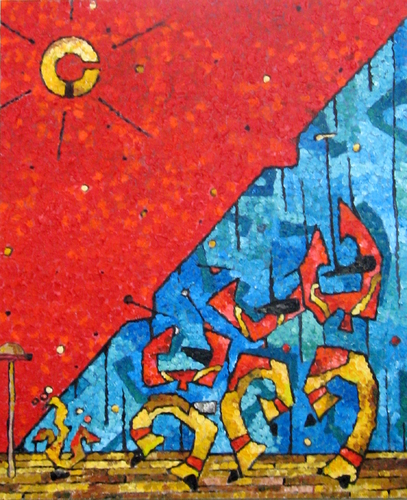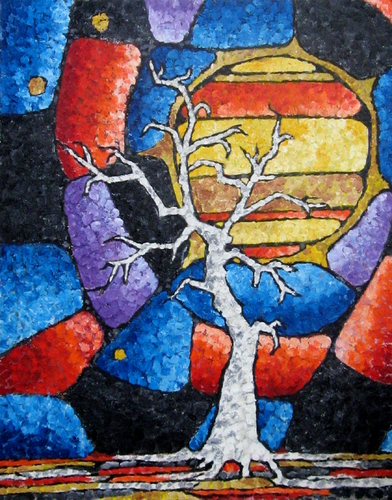 Soon I will be headed to the USA to get my Chinese visa. They say they now have a 10 year visa that I can get. Will find out soon if that is indeed true. I find this a little difficult to believe, because Beijing has made very tight restrictions on foreigners and made if fairly clear that foreigner are not welcome. Perhaps, the Chinese embassy in San Francisco is different. Will find out soon.
Winter in Beijing is here in full force. I dont remember last winter being so cold. My rabbits are snooping around in coal and their faces are blackened like coal miners. Quite cool. Ok. Over and out.
---
Comment:

我喜欢轮胎雕塑的画和三个艺术家的画。不知三个艺术家的画你打算怎么卖?你一直在努力,让我很敬佩。加油,问候你可爱的小兔子^_^
sarah



你好Sarah,
谢谢你了。很长时间没联系。在澳大利亚都好吗?最近来中国吗?如果来北京告诉我,可以见面。最近你画画了没有?
雷森明



雷森明你好,祝贺你的展览成功,艺术家个展是每个艺术家的梦想,愿梦想成真。

赵春香



😊祝你一切顺利 保重身体
吴佳



您好赵春香,
谢谢您,恩,这是一个有名地方里画展所以我也很开心。
雷森明



你好吴佳,
谢谢你了。你也一样:-)
雷森明



雷先生好,你的作品很独特,加油!
牧源 古林



您好牧源 古林,
谢谢您了!
雷森明



真的很佩服您,画确实很漂亮!
牛学东



你好牛学东,
谢谢你了。你发的email也我收到了。
雷森明



喜欢有三个人的那幅画。祝一切顺利!
甄小喵



您好甄小喵,
我也喜欢那幅画,感觉里面有一个很有意思的故事。
雷森明



Sam:Your works are more creative and you are like an artist more.
Susanna



你的作品越来越棒了,不学艺术的我就是看不懂画后的意义。best wishes as always, hope everthing be great! your house lools wonderful with your works.
iris



雷老师,很高兴看到您的新作品,我很喜欢这样抽象又有装饰风格的油画。前年我也养过一只白色的兔子,很可爱的。
何健



雷老师,我是报社记者,能否和您约个采访,苦于找不到您的联系方式,不好意思,唐突地在这里留言。
王雨檬



您好王雨檬,
我的电话号码是18801052785.
谢谢
雷森明



祝你一切顺利
吴佳



Sridhar, It was nice to hear from you.So happy too that you made it to Mongolia. It sounds like a very interesting place, and I enjoyed seeing the pictures. Glad it was a safe and satisfying journey.
Michele



Hi Michele,
Thanks for writing. Havent heard from you in such a long time. Hope things are great in Kentucky.
Sridhar