About Artist
An Interview:

Sridhar, is a full time artist now living in Beijing. Sridhar, please give an introduction of yourself.
I am a US citizen of Indian origin. My full name is Sridhar Vallinayagam Ramasami - quite long. My Chinese name is LeiSenMing. I am a full time artist living in Songzhuang artist village in Beijing.

You have an interesting story on how you became an artist. Tell us about it.
Right. I was an engineer before I became an artist. I graduated in engineering from the Indian Institute of Technology, the top engineering university in India. Then I got a scholarship for a master's degree in the USA, also in engineering. Then, I worked as an engineer and programmer for many years. But I found the corporate life too narrow and sterile. Some unexplainable force within me made me do a long hike. I hiked from Canada to Key West, USA - a distance of 8000 kilometers in 10 months. After the hike, I realized that there are other things besides money that are more important in life. A few months later, I moved to China and became an artist.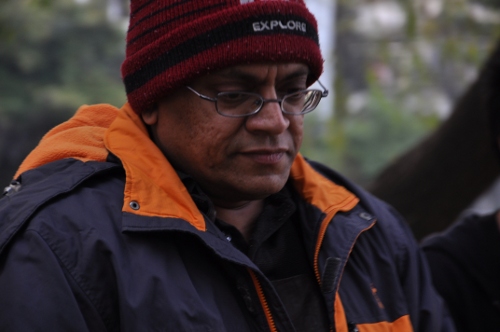 That's a very long hike. Tell us more about it.
The hike was a spiritual experience for me. I discovered that society, TV, friends, family etc are always telling us something. Sometimes directly, many times indirectly. It puts us in a trance, that is very difficult to break. But, when you go into a forest that noise is cut off. After about 6 months, one can think clearly. The great sages of the world like Buddha, Christ, Mohammad etc all went into the forests or deserts to contemplate. There is an excellent reason they did that. A long silence is essential to break society's trance and to find oneself.

How about the dangers of such a long hike?
The danger is far less than one imagines - that is the other thing I discovered on the long hike. Most of our fears are in our heads. Sure, there are dangers when you are out alone in a remote forest, but the perceptions are blown out of proportion. Bears - they are hunted by human beings, so they run when they see human beings. Snakes - when you sleep, don't sleep in a rocky place with many holes. Cold - there are survival common sense tactics one can use when it's very cold. Getting lost - if you are on a mountain, walk down. If on level ground, keep walking in the same direction and you are guaranteed to run into some road.

What are some of the difficulties you faced on the trail?
Extreme cold. There were nights when the shoes would freeze solid and it would very difficult to wear the next morning. After putting the feet in them, the feet would be extremely cold and painful for about half an hour. Setting up tent and cooking at the end of the day's hike - set up the tent, get into the sleeping bag and then cook. Otherwise, it's just too cold. Then there were the more common difficulties of getting lost, hunger, thirst etc.

Now let's talk about your art - it's very different from most normal art. Give us an introduction.
My art is contemporary, in the true sense of the word. What that means is that it represents the influences of the current world. Mona Lisa may be a wonderful painting, but it represents the influences of the world 500 years ago. What is happening now in the world - more inter cultural exchanges, new materials, new colors, new design concepts, more abstract ideas. All these are reflected in my paintings. As an example, if you look at the painting 'Four Trees' - the trees are abstracted and simplified. The clouds above are also simplified. The design of the clouds has a Chinese influence. The design of the trees has an Indian influence and the abstractness has a US influence. If you look at the painting Musician - the materials are modern materials. The painting is on a wire mesh. It uses acrylics, plastics and resins. This painting could not have been made 100 years ago. So what I am trying to do is use present day materials and ideas and create something that is beautiful.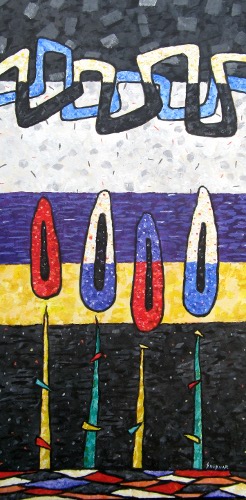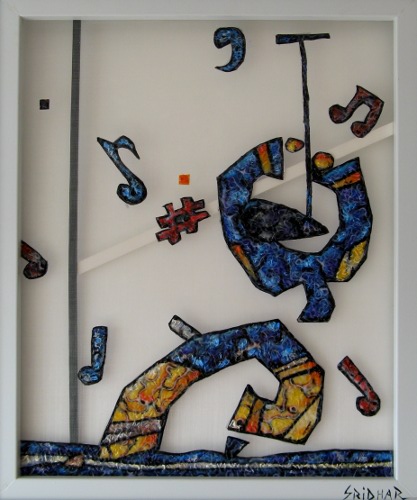 Let's look at this painting Fashionable Women. Introduce that one to us.
Sure. There are three figures in the paintings. They are three fashionable women. They are standing in different poses. They design of the figures has a Chinese influence, while the design of the clothes has an Indian influence. The abstractness and the divisions of the chest, body and head has a US influence. You can see some letters on the left. They are abstract and don't belong to any language. The painting depicts the poise, confidence and beauty of runway models.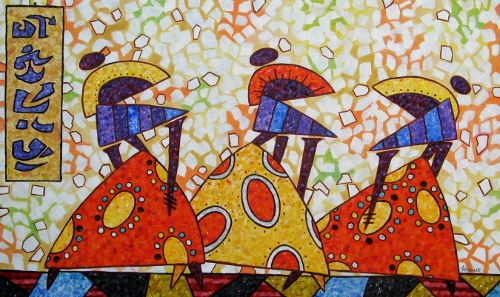 You also work with unconventional but common materials. Tell us about that.
I love experimenting with all kinds of stuff. I have experimented with paintings on wire mesh. The wire mesh has a very transparent feel and then I paint on it using plastics, acrylics and other compatible materials. So, these paintings have a completely different feel from canvas paintings. An example is the Musician painting. I have also painted on Plexiglas using acrylics, plastics and resins. Flower Pot and Plant is an example.

How about the longevity of such materials?
I have chosen the material carefully. They are compatible with each other. Most have a plastic base, so they match and as you know plastic lasts much, much longer than canvas or cloth. So, the artwork I produce is designed to last a long time. Additionally, I guarantee the stability of the artwork for ten years. So the collector can rest at ease.

What kind of people buy your art?
Over time I have found that 90% of my customers have at least a Master's degree, have multi national lives by either living in different countries or being married to people from other countries or owning companies abroad. Also, most of my collectors are very successful and are trend setters in their own fields.

So, small town folk don't buy your painting?
They do. But they tend to be unusual people. Most are entrepreneurs - very talented, confident and successful.

You have exhibited in many countries. Which ones?
I have exhibited in the USA, China, India, Mexico, Japan and Germany.

What are some of your memorable exhibitions?
The big, famous exhibitions were the Art Expo in New York, Shanghai Contemporary and Shanghai Art Expo. But unusual or special exhibitions - I had one in a small village in Gansu. There was a fair and some of my paintings were put on a desk and were leaning on sticks. The villagers were very curious. Another interesting one, was my first solo exhibition. It was in ZhangYe. It was the first time I saw my artwork fill up a large exhibition hall. I found talking to the visitors very interesting. Another interesting exhibition was a solo exhibition in my alma mater - Indian Institute of Technology, Kharagpur. That was the first time, my class mates got to see my paintings first hand. It was quite overwhelming.

How can one buy your paintings?
In some cities, my paintings are available in galleries. The collector can drop by these galleries and talk directly with them. If there is no gallery in the city with my work, the collector can visit my website and choose the paintings.

Mr. Sridhar thanks for your time and good luck.
Thanks.
PRESS

Messenger April 3, 2011 - Newark, Delaware, USA

Painter exhibits at New York Art Expo
Sridhar Ramasami, an engineer-turned-artist and a U.S. citizen with Indian roots who now lives in China, exhibited his "One World" paintings at the New York Art Expo in March.

Ramasami says that, because he has lived in several countries over the years, his paintings depict a merging of different cultures. When he became bored with his job as a computer programmer, he decided to change his life and took a 10-month, 5,000-mile hike of the Eastern Continental Trail, from Canada to Key West, Fla. He says the insights he gained from the experience led him to move to China and focus on his painting. He works in acrylics and oils on canvas in a colorful, contemporary style.

The theme of Ramasami's show in New York was "One World", with a philosophy of global brotherhood. "Color is life, so my paintings are colorful," he says. His paintings have been exhibited in India, Germany, Mexico, China and Japan in addition to the United States.

Sridhar Ramasami's colorful work includes "Peacock 2 (left) and "Dancers 2."


Munchen Merkur September 4, 2010 - Munich, Germany

Translation:

Art of three cultures
V. Sridhar Ramasami painted between India, USA and China

Martinsried - He has his roots in India, then went to the USA and now lives in Nanchang, China. The close relationship with the cultures of these three countries is reflected in Sridhar V. Ramasami's images. His art is unconventional. It reveals a romantic soul, expressed in a colorful and abstract way. "Passion Surprise" is the common title of twenty-two works that are currently in the foyer of the Martinsried Max Planck Institute. The exhibition is a Premier: Ramasami is in Germany for the first time.

The paintings have titles, but the pictures just come out spontaneously, says Sridhar V. Ramasami, Several show the relationship of husband and wife - such as "Couple 1" and "Couple 2". The images are painted in oil on canvas. They artfully blend shapes and colors to depict emotions. If you look more closely at "Couple 1", you can see the traditional pattern of Indian saris, which are painted very precisely on the otherwise reduced body shapes. The circular heads are adorned with nose rings, and are a reminder of ancestors.

In China he learned to deal with tissue paper, says Ramasami. In his recent work he used it on the canvas to achieve a three-dimensional effect. The rhythm of Sridhar V Ramasami's color are harmonious, the technique impasto and artistic.

Ramasamis "Munich inspirations" stands out: they are acrylics and glossy gel. These three images show lively cafe scenes and street musicians. "Munich is a vibrant and very inspiring city" says the artist. The inspirations has emerged in the early days of his stay in Bavaria. Overall Ramasamis images are worth seeing. They are unusual examples of contemporary and modern art and been exhibited in Japan, the United States, China, Mexico and India.

The exhibition "Passion Surprise" can be seen till the end of October in the foyer of the Max-Planck-Institute, Am Klopferspitz 18 Martinsired.