About Artwork
"These paintings belong to a global ethnicity"

"One can see traces of Egyptian, Chinese, Indian, European, African and Arab influences in Sridhar's work"

".. graduated from the Indian Institute of Technology - one of the top engineering universities in the world, worked in the US software industry for several years, went on a 10 month, 5000 mile hike then moved to China. We dream of doing things, he does it..."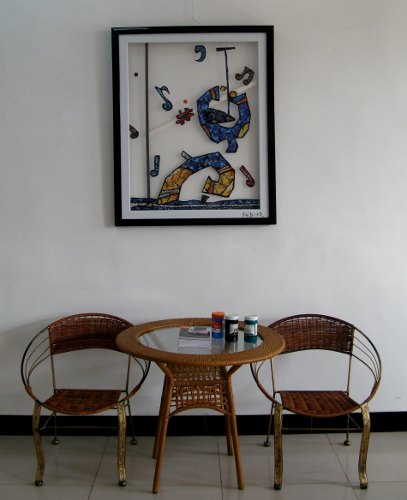 "His artwork is meant for the very intelligent and very independent. Commoners need not apply" ' Xiao Zhang

"Art that is playful at first glance, sucks you in, then makes you think."

"... artwork that is direct and powerful"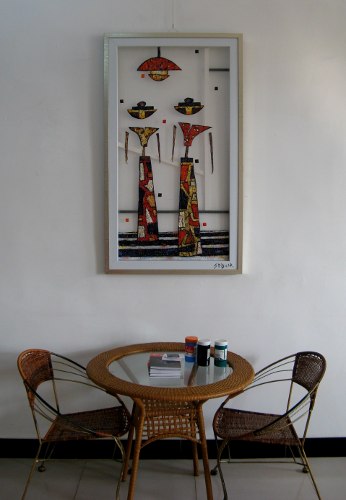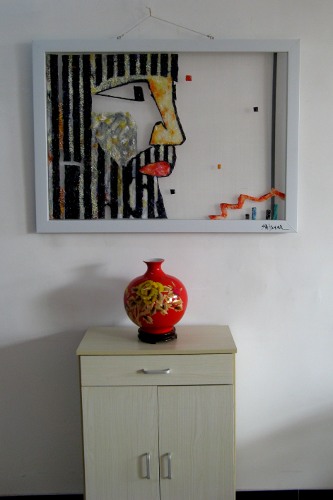 PRESS

...because he has lived in several countries over the years, his paintings depict a merging of different cultures - Messenger Magazine, University of Delaware, USA

"His art is unconventional. It reveals a romantic soul, expressed in a colorful and abstract way - Munchen Merkur Newspaper, Munich, Germany

"They are unusual examples of contemporary and modern art and have been exhibited in Japan, the United States, China, Mexico and India." Munchen Merkur Newspaper, Munich, Germany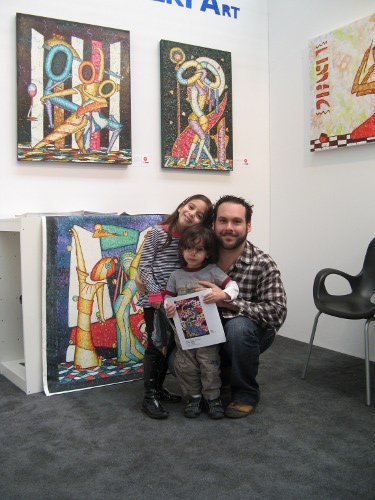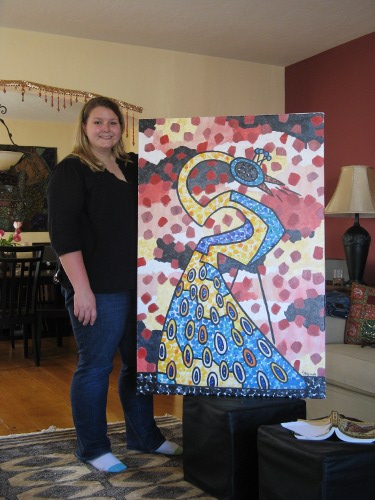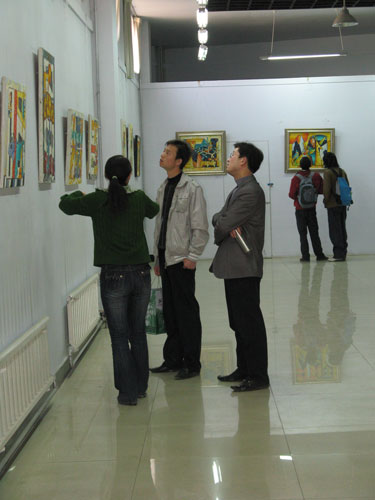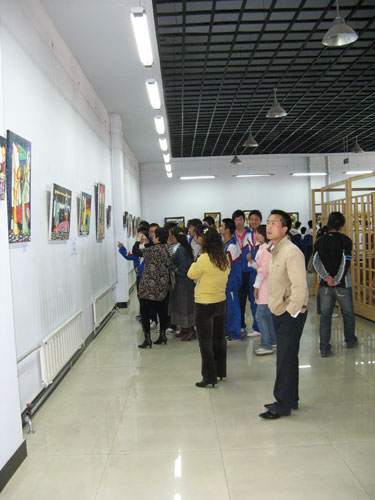 Exhibitions:
China - Lanzhou 2006, ZhangYe 2010 Solo, Nanchang 2010 Solo, Shanghai Contemporary 2011, Shanghai Art Expo 2011, Beijing 2012
Germany - Munich 2011 Solo
Japan - Tokyo 2007, Tokyo 2009
Mexico - Guadalajara 2008
USA - Miami 2002, Ft. Lauderdale 2002, Austin 2006, Stamford 2011, New York Art Expo 2011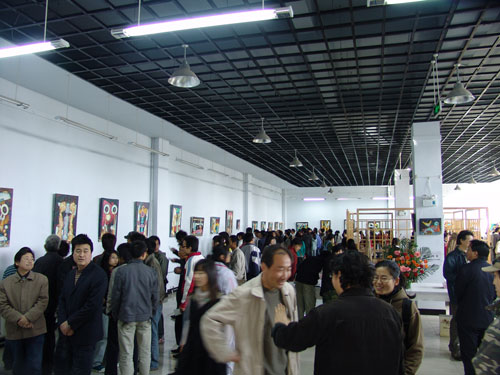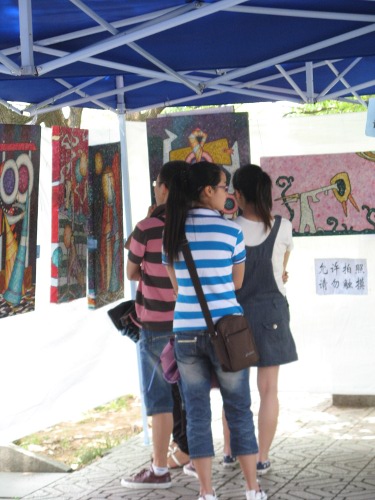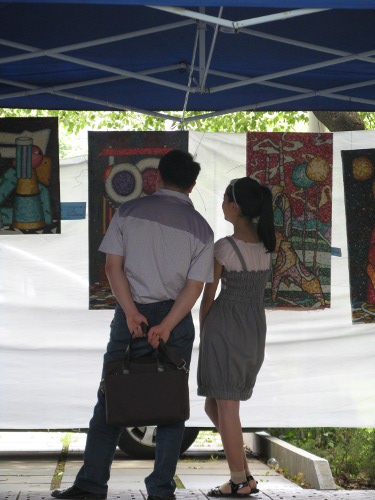 PROFESSIONAL CRITIQUES:

...have a VERY visually distinctive and attractive technique and style. These works instantly grab one's attention, and then demand a second, closer work
- David Huang

...found them to be quite compelling, fresh...ordered and well orchestrated. The color holds interest..
- Larry Seiler

...work is utterly charming. I love the consistent theme and process of the work. It is a solid thoughtful unit. The style is very contemporary and playful. Whimsical and fun
- Linda Blondheim

-it has immediate visual impact and weight, the compositions are bold in their use of strong, clear shapes, and also complex as the the shapes mesh, interlock, overlap in inventive ways. Overall there is a clear sense of an individual, personal approach
- Rebecca Caldwell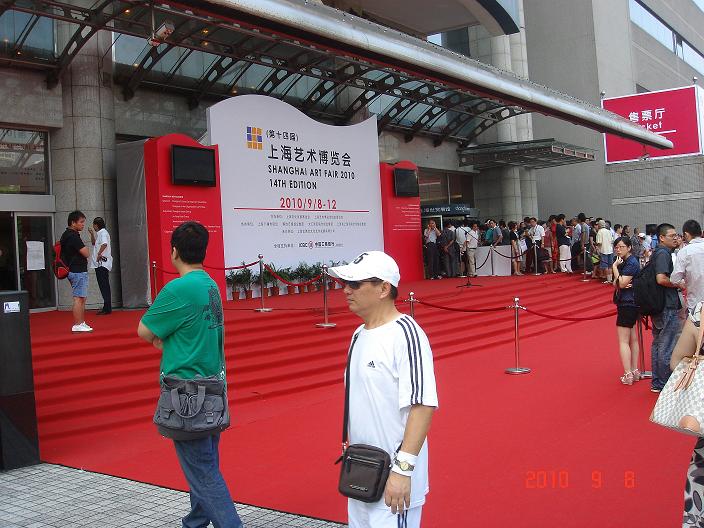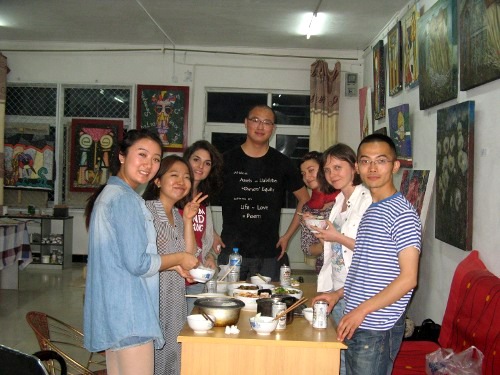 TEXTURE AND MATERIALS:

Sridhar is an engineer as well as an artist. He frequently uses engineering materials in his artwork and develops his own techniques. Polyart uses different forms of plastics such as PVC, PMMA, PLA, resin, acrylic paints and so on. The technique was invented by Sridhar and uses a CNC router and a 3d printer assembled by the artist. The artwork have a transparent, floating feel. Here are some photos: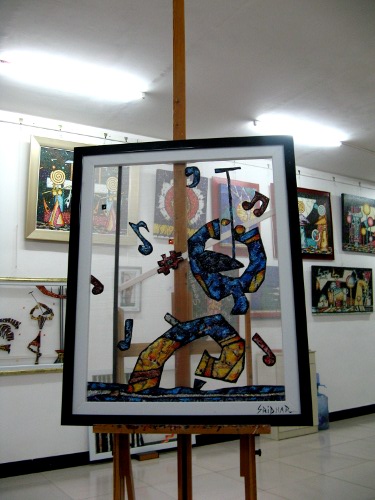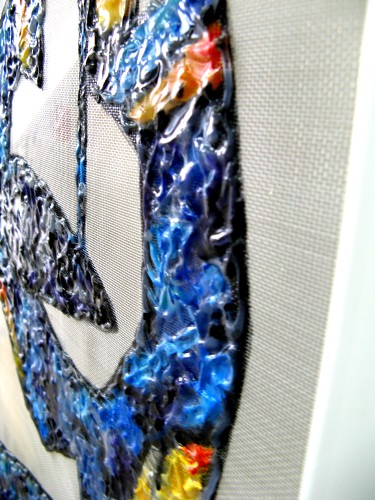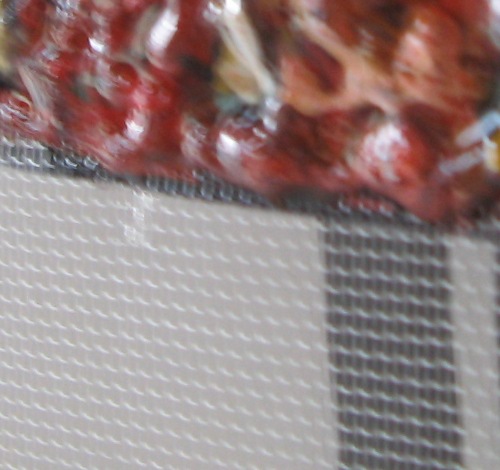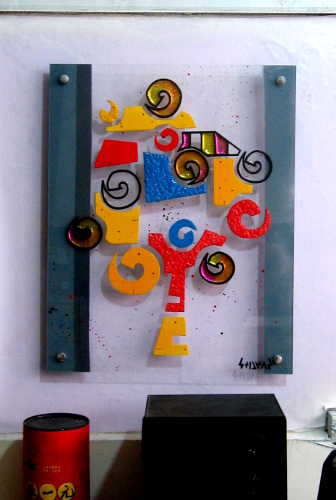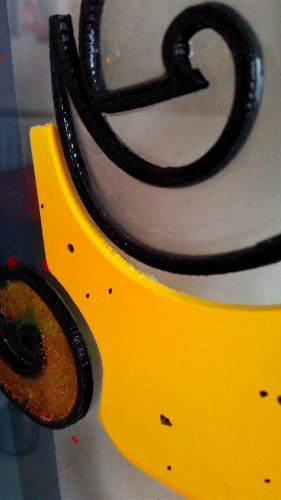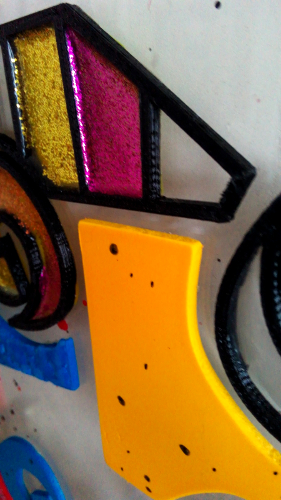 Paintings for the Living room, Bed room, Hall, Bar, Office .....

Unique and bold paintings for the unique and bold.

Purchase online or visit our gallery in Beijing.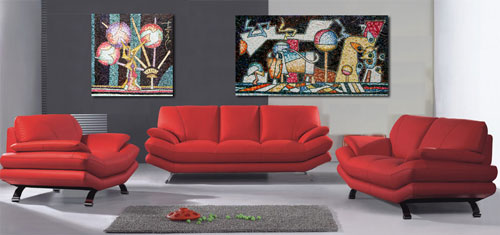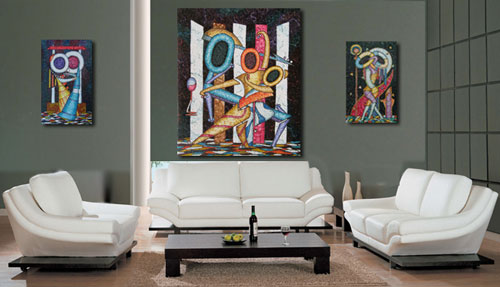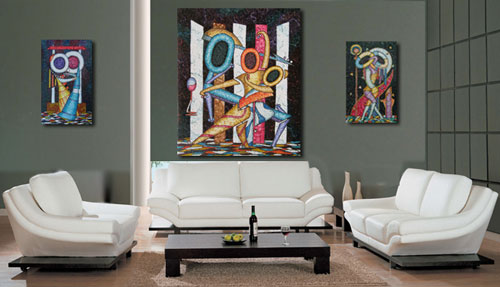 Prices

Paintings here are original, one of a kind. They are not copies or factory produced "artwork". You can expect to pay between 500 to 5000 USD per painting. Smaller = cheaper. Paintings are shipped all over the world. Contact us for prices in your currency.

Every once in a while, we have prints or small studies that are available for a cheaper price. Please contact for availability.
HOW WILL YOUR PAINTING LOOK?

Below are some photographs showing the paintings in different settings.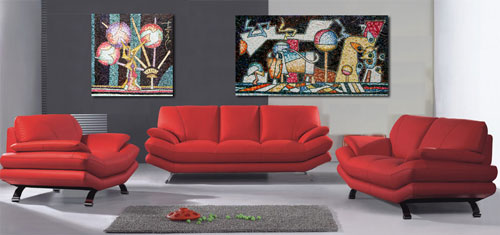 Living room made elegant with paintings "Cow in Pasture" and "3 Searching".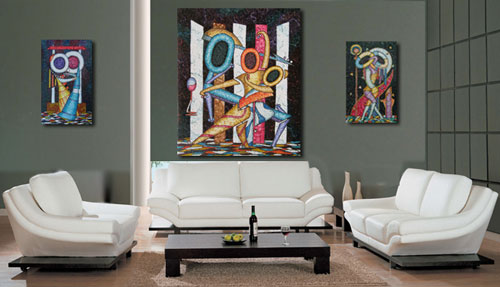 Paintings "Couple", "Ill Fated Couple" and "Dancers and Dog".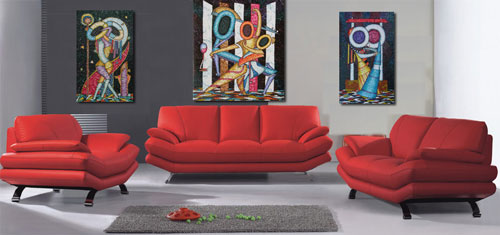 Paintings "Couple", "Ill Fated Couple" and "Dancers and Dog".



Paintings "Talkers" and wooden table.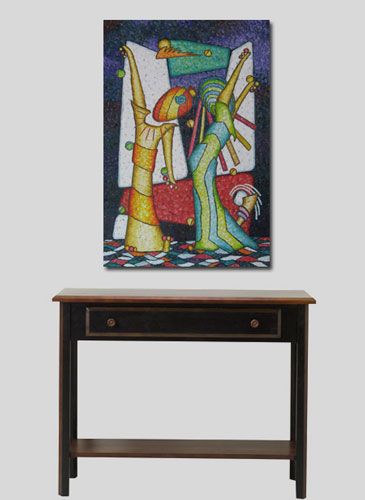 Paintings "Dancers and Disapproving Elder" and wooden table.

Guarantee:

Satisfaction guaranteed. If you are not satisfied, contact us within 10 days and we will return the money - no questions asked. You only pay for the 2 way mailing.

We also guarantee that the materials used in the artwork are professional artist grade and should last many, many years.


Payment Options:

You can pay by Paypal, Cash or Personal Check.

Mailing Options:

We can send the painting by surface or air. Of course, surface mailing is much cheaper than air but also a lot slower. All paintings except those on plexiglass are sent as a roll.

On average international mailing cost for air per painting is 50 usd. This is a rough estimate. Larger paintings are more expensive to mail. An exact amount will be calculted before payment.
Delivery Times:

Within China the delivery time is 2-4 days. International air is 10 to 14 days. International surface is 30 to 45 days.
Discounts:

If purchasing multiple paintings, we can give you a discount.
Pricing and ordering details:

For prices, mailing options, payment options and any other questions, please contact. Your location and name of the painting are important, so please include them in your correspondence.
Free Brochure:

We can mail free brochures to customers anywhere in the world to help them in their decision making process. Send us your request and street address and we will send it out to you. Please remember to include your street address. Click here.